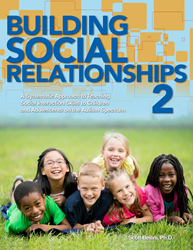 Lenexa, Kansas (PRWEB) March 01, 2016
AAPC Publishing announces the release of Scott Bellini's newest book 'Building Social Relationships 2' ('BSR-2'). 'BSR-2' expands the original and widely distributed 'Building Social Relationships' ('BSR') that was named the Literary Work of the Year by the Autism Society of America upon its publication in 2007.
There are multiple enhancements throughout the book, including new intervention strategies and updates in the area of social skills assessment and progress monitoring, garnered from Bellini's further experiences as a psychologist, professor, and expert in the field. Parents and practitioners alike can use 'BSR-2' to methodically address the social skills and social cognitive needs of children on the spectrum to improve outcomes in these areas. The book is infused with over 40 detailed instructional strategies and new sample session structure plans.
Both teachers and parents found the first edition to be refreshing in its practical approach and step-by-step model. "Many practitioners are great about spouting theory, but parents don't want theory; they want to know what they can do for their child today," said Melanie Maxwell, parent of a child with ASD. "This book lays it out in terms that are applicable for home and school."
The author, Scott Bellini, is the assistant director of the Indiana Resource Center for Autism (IRCA) at the Indiana Institute on Disability and Community. He also is a psychology professor at Indiana University where he teaches courses on behavior management and therapeutic interventions for children with autism spectrum disorder (ASD). As a licensed psychologist, Bellini also operates a therapeutic clinic specializing in social skills programming for adolescents with ASD and other social skill difficulties. Bellini is heavily involved within the autism community. During his many years of being an expert in the field of autism spectrum disorders, Bellini has published numerous articles, and he has spoken nationally on social-emotional functioning and programming for children with ASD.
About AAPC:
Established in 1999, AAPC Publishing specializes in providing mainstream, hands-on knowledge to individuals, families, educators and other professionals regarding topics related to autism spectrum disorders. We are a proud provider of quality resources that offer evidence-based solutions at affordable prices.
Media Contact:
Sara Prusik
Marketing Team
AAPC Publishing
11209 Strang Line Rd.
Lenexa, KS 66215
913.232.4508
sara.prusik(at)aapcpublishing(dot)net