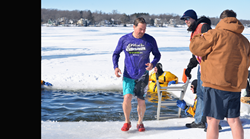 Even with the super cold temperatures, this year's event was a great success topping $100,000 in donations.
Hartland, Wisconsin (PRWEB) March 01, 2016
One would think that a wind chill of minus 15 degrees Fahrenheit combined with water temps of 32 degrees Fahrenheit would be enough to keep everyone away. But, unstoppable, winter warriors lined up anyway and made the icy plunge in support of cancer research.
"I can't remember things ever being this cold," said event organizer, Rick Smith. "The crew cut the hole in the ice, and by 9am the next morning it had refrozen thick enough to where it had to be recut with a chainsaw."
JX Enterprises President and CEO, Eric Jorgensen has been an annual jumper and very active with the event from the beginning. "Even with the cold temperatures, this year's event was a great success. Once again, in a very special and fun way, we were able to honor individuals who are battling or have battled cancer," he said.
This year, the event topped $100,000 in total donations collected to date and funds are still pouring in.
"Ellen's Icebreaker for Cancer Cure" was established in 2013 in memory of Ellen Smith, a Froedtert Hospital employee who died from gastric cancer in October 2013 at the age of 59.
Ellen is the late wife of Rick Smith. Rick partnered with his employer, JX Enterprises to create and organize the event.
People who did not wish to take the plunge or brave the elements were able to participate by donating online in memory of a loved one or in support of someone currently battling cancer.
Next year's Ellen's Icebreaker for Cancer Cure is tentatively scheduled for March 4, 2017. Proceeds from Ellen's Icebreaker benefit cancer research through the Medical College of Wisconsin Cancer Center.
For more information, and to donate, visit http://www.ellensway.org.
About The Medical College of Wisconsin Cancer Center
The Medical College of Wisconsin Cancer Center is devoted to translating research into patient care. The MCW Cancer Center is an integrated partnership of cancer research scientists, physicians and clinical trial investigators and staff from the Medical College of Wisconsin, Froedtert Hospital, Children's Hospital of Wisconsin and Zablocki VA Medical Center, and the BloodCenter of Wisconsin. The Cancer Center, as part of MCW, is the only Academic cancer center in Southeastern Wisconsin. To learn more, visit http://www.mcw.edu/cancercenter.htm
About JX Enterprises
JX Enterprises, was founded in 1970. Headquartered in Hartland, Wis., the company operates 19 medium- and heavy-duty truck dealerships throughout the Midwest with locations in Appleton, Green Bay, Madison, Milwaukee, Mineral Point, Waukesha, and Wausau, Wisconsin; Grand Rapids and Kalamazoo, Michigan; Bloomington, Bolingbrook, Champaign, Elmhurst, Lansing, Rockford, and Wadsworth, Illinois; and Fort Wayne, Indianapolis, and Lafayette, Indiana. The JX Truck Center location (Wausau, Wis.) provides Volvo trucks, service and parts in addition to Peterbilt offerings; and JX Hino - Chicago (Bolingbrook, Ill.) provides Hino trucks, service, and parts. JX is known for their ability to assist customers by providing transportation solutions that maximize results and fit their long- and short-term goals. The company offers a full array of financing, leasing, rental, parts, and repair services. To learn more, visit http://www.jxe.com.