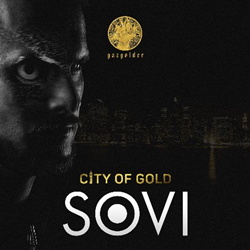 A successful television and film actor with the requisite chiseled good looks of a male runway model and the charisma of a confident club promoter, SOVI is roughly translated as "night owl."
New York, NY (PRWEB) March 01, 2016
Confident. Sexy. Masculine. Russian actor, DJ and producer, SOVI, is all of these things. SOVI's "City Of Gold" (Gazgolder Records) is available now as a free download.
A successful television and film actor with the requisite chiseled good looks of a male runway model and the charisma of a confident club promoter, SOVI (real name Vycheslav Hahalkin) is roughly translated as "night owl" and the description is fitting. With a zeal for electronic dance music (EDM) and a driving work ethic, SOVI spent years teaching himself the art of DJing. "City Of Gold" is his latest effort, an original production summoning the energy and attitude of today's club-going generation.
From the outset, the Radio Edit has an uber-deep, fat and succulent 4/4 beat that is irresistibly sexy. Even the vaguely militant-sounding drums rise-up with the build of the synths to buoy a distorted female vocal sing-rapping in her own groovy, funky way. This track is gleeful and moving in a way that makes the listener just want to get up and dance. Given the twerky, tweaky chorus that chimes-in hypnotically repeating, "City of Gold," this track is at once bouncy, acidic and freaky with a soulful vocal and tight construction. Undeniably catchy, the Radio Edit will likely make waves during Miami Music Week when it debuts in mid-March.
The Extended Mix takes the luscious, thick 4/4 beat and draws it out on the intro, making it sound even wider on the low-end. This is the perfect club version that truly maximizes the vivacious bounce of the Radio Edit and elongates it for full effect. The generous outro is perfectly suited for club jocks. The Deep Remix is a revelation and a jazzy, laidback surprise, turning the original into a supremely confident track even at this slower tempo. This edit is gooey, warm and lazy in the best of ways, summing up SOVI's effortless swagger gleaned from the knowledge that he's the sexiest guy in the room. The rich-yet-sparse production of this edit is as brilliant as it's hot. The dreamy, floaty, electric guitar riff towards the end of this edit absolutely seals the deal.
Influenced as a youngster by the rock-'n-roll sounds of Limp Bizkit and Kurt Cobain, SOVI first dipped his toes into clubland as a "B-boy," sneaking into Russia's nightclubs before he was of legal age. When the sounds of electronic dance music infiltrated Russia's club scene a few years later, SOVI fell head-over-heads in love with the groundbreaking music of Kraftwerk, Giorgio Moroder and Daft Punk. After a move to the bustling metropolis of Moscow, SOVI's transformation into a working DJ and producer was complete and he poured himself wholeheartedly into the studio he had built. His drive for electronic dance music was never stronger and he gravitated to the sounds of progressive-house and minimal techno. Today, with a successful career as a television and film actor in his native Russia, SOVI looks to foreign shores as an EDM producer with his latest releases.
iTunes, https://itunes.apple.com/album/city-of-gold-single/id1087379709?l=en; Soundcloud free download, https://soundcloud.com/sovi-official.
For more information on SOVI and other electronic dance music artists, including, ARMIN van Buuren, Andrew Rayel, MaRLo, Thomas Gold, Sylvia Tosun, Giuseppe Ottaviani and more, U.S.-based media outlets contact EMILY TAN Media Relations, +1(917) 318-3758, EmilyEmilyTan@aol.com. Follow EMILY TAN Media Relations on Twitter @EmilyEmilyTan.
# # #