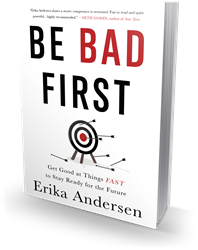 In order to thrive in this new world, you have to let go of the idea that to be an adult means to be an expert.
Boston, MA (PRWEB) March 08, 2016
Bibliomotion is thrilled to announce the launch of BE BAD FIRST: Get Good at Things Fast to Stay Ready for the Future by Erika Andersen (March 8, 2016).
We are operating in a world defined by constant connection, rapid-fire change, and abundant choices. News that once took months, even years, to spread now reaches across the globe in seconds. Advances in medicine, technology, and science are toppling boundaries every day. And decisions about where and how to work and live are nearly endless.
As new knowledge and the possibilities that arise from that knowledge propel us forward, leadership readiness expert and renowned author Erika Andersen suggests that success in today's world requires the ability to acquire new knowledge and skills quickly and continuously—in spite of our mixed feelings about being a novice.
In her latest book, BE BAD FIRST: Get Good at Things Fast to Stay Ready for the Future (Bibliomotion; hardcover; March 8, 2016), Andersen explores how we can become masters of mastery, proficient in the kind of high-payoff learning that's needed today. With assessments and exercises throughout, she encourages readers to embrace being bad on the way to being great—to be novices over and over again as we seek to learn and acquire the new skills we need in this fast-changing world.
"There's no way around it, I'm afraid: in order to thrive in this new world, you have to let go – on a daily basis – of the idea that to be an adult means to be an expert," writes Andersen.
Andersen offers readers ANEW, a simple model for overcoming resistance to learning and taking best advantage of our deeply ingrained human will to mastery. ANEW outlines the four mental skills crucial to learning:

Aspiration – How to make yourself want to learn new things by focusing on the personal benefits of doing so, and then envisioning a future where you're reaping those benefits.
Neutral Self-Awareness – How to see yourself objectively and accurately, so that you can be clear about where you're starting from in learning something new – and what you'll need in order to improve.
Endless Curiosity – How to re-engage your childhood impulse to understand and master new skills and information. When combined with aspiration, true curiosity creates an unstoppable momentum of discovery.
Willingness to Be Bad First – How to accept that you will be bad at things that are new to you, while at the same time believing that you'll be able to get good at those things over time.
Andersen illustrates ANEW in her signature storytelling style, from Michelangelo painting the Sistine Chapel ceiling to today's senior executives. These stories, interwoven with self-directed exercises, create a highly engaging and practical book that supports readers to become master learners.
"Because each one of us today is faced, moment to moment, with an overwhelming flood of information and possibilities that are brand new to us, we have to learn to be okay with being continuously uncomfortable in a way that no one in previous generations has had to do. We have to learn to be comfortable with being uncomfortable."
No matter what you're good at now, if you hold on to how it looked and worked five years ago, or five minutes ago – you'll get left behind. Getting good at being bad first is the most essential and powerful future-proofing tool you can have.
Erika Andersen is a nationally-known leadership coach, popular Forbes blogger, and the author of Growing Great Employees, Being Strategic, and Leading So People Will Follow. She is the founder of Proteus, a consulting, coaching, and training firm focused uniquely on leader readiness. Her clients include CEOs and top executives of a number of corporations, including NBC Universal, Hyatt, Turner Broadcasting, GE, and Madison Square Garden.
Erika Andersen is the founding partner of Proteus, a coaching, consulting and training firm that focuses on leader readiness. She and her colleagues at Proteus support leaders at all levels to get ready and stay ready to meet whatever the future might bring.
Erika advises senior executives in companies like NBCUniversal, Tory Burch, GE, Madison Square Garden, HULU and Viacom, focusing with them on organizational visioning and strategy, team development, and their own management and leadership evolution.
She also shares her insights about leading people, staying ready for the future, and creating successful businesses through her books and speaking engagements, and via social media. Erika is one of the most popular leadership bloggers at Forbes.com. In addition to Be Bad First: Get Good at Things Fast to Stay Ready for the Future, she is also the author of Leading So People Will Follow, Being Strategic, and Growing Great Employees, and the author and host of the Proteus Leader Show, a regular podcast that offers quick, practical support for leaders and managers.
Connect with Erika on Twitter (@erikaandersen), on Facebook (http://www.facebook.com/ErikaAndersen), on her own blog (erikaandersen.com), or at Forbes (http://www.forbes.com/sites/erikaandersen).
Praise for Erika Andersen and BE BAD FIRST
"Erika Andersen shares a secret: competence is overrated. Fun to read and quite powerful... highly recommended."
—Seth Godin, author of Your Turn
"To succeed in today's rapidly changing world, you've constantly got to think and act in brand-new ways. Erika offers a fresh approach in clear, practical terms…to get to 'good' or 'great,' you can't be afraid to Be Bad First."
—Bonnie Hammer, chairman, NBCUniversal Cable Entertainment Group
"In Be Bad First, Erika Andersen offers leadership strategies for the ever-changing business landscape that are essential for anyone trying to navigate it."
—Doug Herzog, president, Viacom Music & Entertainment Group
"We're often held back from trying new things, in both our personal and professional lives, by the fear that we're not going to be good at them. I love how Erika Andersen's Be Bad First gives leaders the confidence to experiment in the spirit of innovation—then quickly move on to greatness."
—Beth Comstock, vice chair, GE
"If the road to success is paved with mistakes well handled, then the journey of life is won by courageously choosing to stumble first in order to set distance records later. In Be Bad First, Erika Andersen lovingly guides us through the confidence-building steps necessary to master the part of growing up that doesn't benefit adults: a natural fear of failing to measure up."
—Danny Meyer, CEO of Union Square Hospitality Group and author of Setting the Table: The Transforming Power of Hospitality in Business
"I learned early in my career that whatever you are good at today will be old news tomorrow. As described in Be Bad First, responding well to this truth requires building specific mental skills. The book clearly shows you how to do that so you can stay in front of the pack with confidence no matter what. Read this book every year to sustain your success over time."
—Dr. Marcia Reynolds, author of The Discomfort Zone: How Leaders Turn Difficult Conversations into Breakthroughs
"Change is the new norm and with Be Bad First, Erika Andersen demonstrates how we all can be more agile and adaptive. She breaks down how to acquire new skills and knowledge quickly in order to thrive in today's fast-paced world."
—Maryam Banikarim, global chief marketing officer, Hyatt Hotels Corporation
"Erika Andersen exposes some of your darkest secrets, bringing them to light in a way that helps you realize it's not only okay to Be Bad First, but absolutely necessary for the learning process that leads to sustainable performance."
—Susan Fowler, author of Why Motivating People Doesn't Work…
and What Does
"Whatever it is you have to learn or want to learn, Erika's latest book shows you the way to open yourself to becoming all you can be."
—Dr. Jeff Tanner, dean, Strome College of Business, Old Dominion University
An Interview with Erika Andersen, author of BE BAD FIRST
Q: Why did you write this book?
A: As I worked with executives and their businesses over the past decade, I became convinced that, given the ever-accelerating pace of change affecting all of us, the single most important predictor of success in the 21st century is the ability to acquire new skills and knowledge quickly and continuously. In other words, I came to believe that the people I call "master learners" will be the kings and queens of the future.
So I started to think about the people I knew who were great learners, and what they did to acquire new capabilities. Over and over, I noticed that they developed and used four simple mental skills that I began to call ANEW – aspiration, neutral self-awareness, endless curiosity, and willingness to be bad first. I wrote Be Bad First to share these skills and give my readers core tools to stay ready for the future.
Q: Why is being bad first so essential now?
A: Think about the past decade. The pace of change in every area of our lives is accelerating daily. The only way to keep up with change, professionally and personally, is to be open to learning new things – new skills, bodies of knowledge, ways of operating – as they arise. And the simple truth is that when you're learning something new, you're going to be bad at it. Unless you can accept and get good at going back to being bad over and over again, you're going to get stuck in your existing expertise.
Q: What would you tell someone who is hesitant to try new things and afraid of failing?
A: Look for low-risk places to try new things and practice the ANEW skills. As you get more comfortable with them, push yourself to learn in higher-risk, more public situations. And most important, notice and revise any negative self-talk that doesn't support you.
Q: If readers took one thing away from your book, what would it be?
A: Two things: First, that you must become a great, high-payoff learner in order to succeed today. Second, that you can enormously improve your ability to learn by learning to manage the way you talk to yourself.
Q: What's next for you?
A: Working with my colleagues at Proteus, we've understood that the ANEW skills are the prerequisite for learning all the other leadership and management skills we teach. So we're embedding these ANEW skills into our training and coaching, in order to make our work as effective as possible.
Bibliomotion is a book publishing house designed for the new publishing landscape. While many publishers work to retrofit old processes for new realities, Bibliomotion was founded by book-industry veterans who believe the best approach is a fresh one – one that focuses on empowering authors and serving readers above all else. Moving away from the top-down model that has dominated the publishing process for years, we give each member of the team – including the author – a seat at the table from the very beginning and in doing so, work side-by-side to launch and sell the best content possible, making it available in a variety of forms.