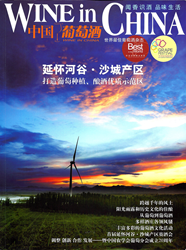 "Finally, an inexpensive way to bring California and US wines directly to Chinese consumers and distributors. People in China like California wines, but many consumers still have not had a chance to taste many of them.
Napa, CA (PRWEB) February 29, 2016
The organizers of the RIMA international food and wine festival taking place in Beijing on June 17-19 have reached out to the Cal-China Wine Cultural Exchange (CCWCE) to create opportunities for U.S. winemakers to bring their wines to China for this inaugural event.
The Chinese government gave the go-ahead in January to Wine in China, an official government publication, to host RIMA, a show for consumers, media and trade, which is expected to draw about 50,000 visitors. The three-day event will be held in the Botanic Garden Expo, a 267-hectare park with exhibition areas and gardens on the northwestern edge of the city. This was the site for the ninth International Garden Expo held in Beijing in 2013.
The nonprofit CCWCE has agreed to help producers ship wines to China, secure tasting spaces at RIMA, and organize, and provide staff for wineries who do not choose to send representatives to the event.
Dr. Joe Chuang, an American scientist, businessman and philanthropist, who founded the CCWCE, was in Beijing on business when he was contacted by the editor and publisher of Wine in China, which has an estimated readership of more than 80 million. "Everyone in China who is interested in wine reads it," he said.
Chuang, who owns Firefly Vineyards in Napa Valley and Flower Valley Winery in the Hualai Valley of China, created the CCWCE to open doors for California winemakers in China and to promote a better understanding of the business practices as well as an exchange of technical information.
Chuang said that the Wine in China organizers told him that after they received government approval, they contacted embassies and consulates of wine-producing countries to invite them to participate; while they have received an enthusiastic response from countries such as France, Italy, Chile and Australia, they want to be sure that U.S. wineries are also represented.
"People in China like California wines," Chuang said, "but many consumers still have not had a chance to taste many of them.
"Wine in China anticipates that RIMA will become an annual event, the biggest in China," Chuang added. "They have secured an agreement to hold it for the first three years at the Botanic Garden Expo, a beautiful site in Beijing."
Chuang said tasting booths are available to rent for $2,000 each for the three-day event. Because each booth has space to accommodate up to 10 separate wine labels, he has offered a plan where wineries will be able to share one space, reducing the cost to $200 per label.
Chuang, who regularly ships his and other wines to China, said the CCWCE has agreed to facilitate shipping of two cases per label to Beijing, where it will be stored in a bonded area and then transported to the festival site.
CCWCE will consolidate the wines for the RIMA event by the end of March in Napa for shipment to China by April 15. The RIMA organizers noted that there is a custom clearance fee of $300 for each wine label, in addition to the normal shipping and handling fee for the wines shipped to China.
Chuang said CCWCE's bilingual volunteers will be available work at the festival setting up and pouring wines. "Four of these are Chinese students with who are working on their Level 4 WSET qualifications and who have taken classes at the Napa Valley College enology and viticulture programs," he said.
"I believe this is an excellent opportunity for wineries who may be interested in exporting wines to China but have found it is a challenge to understand how to do this," he said. "It is an inexpensive way to bring their wines directly to Chinese consumers and distributors."
He said the CCWCE will also help introduce participating wineries to meet Chinese distributors who might be interested in representing these wines in China after the event. For those who wish to sell wine through a distributor, there is an opportunity to ship up to two additional pallets of wine.
Chuang, whose energy research company, Eco Global Solutions, Inc., is based in Napa Valley, is working with the Chinese government on solutions to air pollution. He said he plans to be in Beijing for the inaugural RIMA event and intends to assure a prominent place for the U.S. wines.
"I understand that each person will be given tasting tickets for wines," he said. "The CCWCE intends to be sure visitors see the U.S. booths first."
Following the RIMA show, the Napa Valley College and CCWCE will present a joint wine education program in the Hualai Valley. Dr. Ron Kraft, president of Napa Valley College and Dr. Chuang are finalizing details for the presentations.
For more information, contact the CCWCE by email at info(at)calchina-npo(dot)org or by telephone at 707-251-3808. More information is also available at the CCWCE website, https://www.calchina-npo.org/
About Cal-China Wine Cultural Exchange
Cal-China Wine Cultural Exchange (CCWCE) has extensive contacts and knowledge of the American and Chinese wine industries, wine trade, and tourism, and also has relationships with related education and service groups. We welcome anyone who is interested in learning more about the wine industry in California or China.
###