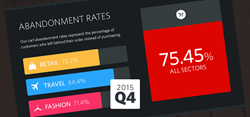 The latest figures illustrate the different shopping behaviors before and during the holidays. The season of goodwill ensures plenty of gift buying and eager purchasing fingers; but also a longing to start planning that next big vacation.
Herndon, Va (PRWEB) March 01, 2016
SaleCycle, the leading behavioral marketing company, has released the results of their 2015 Q4 Remarketing Report.
Taken from a consolidation of statistics from over 500 global brands, the report reveals 12 key cart abandonment and remarketing statistics over the course of October, November and December 2015.
Report highlights:

The average cart abandonment rate globally was 75.45% in Q4 2015.
Retail abandonment rates were down in Q4 at 72.2% compared with 73.8% in Q3 2015.
Travel abandonment rates were up, with a 84.4% of consumers starting a booking online and leaving the website, compared with 82.4% in Q3.
The report also reveals the effectiveness of remarketing to consumers who are either about to abandon a purchase, or who have recently abandoned, with stats on on-site remarketing and email remarketing included in the infographic.
To view the full report, please visit: http://www.salecycle.com/the-remarketing-report-q4-2015-infographic/