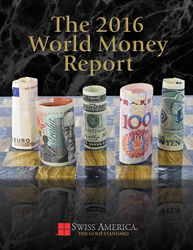 Geopolitical forces are changing how the world does business and investors need to prepare for a post-dollar era. Dean Heskin, CEO of Swiss America
Phoenix, Arizona (PRWEB) March 02, 2016
Swiss America Trading Corporation, a Phoenix based private investment firm that specializes in the security, wealth protection, and profit potential of precious metals; has just released its 2016 World Money Report.
Swiss America's new 2016 World Money Report is an insightful study of economic globalization with particular emphasis on the US dollar's diminishing role as the world's reserve currency. It explores currency manipulation and how paper money is used as a competitive weapon in the world marketplace.
"This is an important read for anyone holding dollars in a savings or retirement account," states Dean Heskin, CEO of Swiss America. "It underscores the changing climate of global money and what that means for the average investor."
The 2016 World Money Report surveys the volatile euro, the rising yuan, as well as the global ambitions of China, Russia and Iran in abandoning the US dollar in bilateral trade. This, along with overtures from both the UN and the IMF, suggests that an entirely new reserve system may soon be on the horizon.
"New geopolitical forces are changing how the world does business and investors need to prepare for a post-dollar era," adds Heskin.
In a time of increasing economic integration, the consequences of growing multi-national interdependence with respect to trade, capital, and currency are dramatically altering the investment landscape. This new report offers important insights on the evolving new world order and the fiscal impact on Wall Street, the Fed, the dollar, lending, manufacturing, and banking.
The eye-opening study also exposes America's squandered privilege as decades of out of control spending, costly wars, hefty entitlement programs, and loose monetary policy have eroded confidence in US currency and American fiscal leadership.
The 2016 World Money Report is a complimentary publication from Swiss America and part of its ongoing commitment to help investors make informed decisions to keep their money safe in a changing world.
The report is available online at http://www.2016MoneyReport.com or by calling Swiss America directly at: 1-800-289-2646.
Swiss America Trading Corporation was founded in 1982 by Chairman Craig R. Smith and has grown into one of the largest and most respected asset protection firms in the industry and one dedicated to helping consumers navigate the dynamic trends that impact their savings and retirement accounts in an ever changing world.