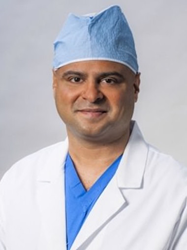 Patients are considered for joint replacement surgery only after all non-surgical approaches are exhausted in relieving joint pain
New York, NY (PRWEB) March 01, 2016
According to the American Academy of Orthopedic Surgeons 2.5 million Americans are now living with an artificial hip. "When surgery is needed a hip replacement can greatly improve a person's mobility and quality of life, and now robotic hip replacement surgery offers improved results," says Dr. Nakul Karkare, an orthopedic surgeon specializing in limb reconstruction & joint replacement surgery in New York City and Long Island.
The Benefits of Robotic Hip Replacement
"Robotic hip replacement, also called robot-assisted hip replacement, is a state-of-the-art technique for joint replacement that uses precision technology to improve accuracy and outcomes in patients requiring artificial hip joints," says Dr. Karkare. "Robotic-assisted surgeries can provide much better results and more accurate treatments than traditional techniques. A robot-assisted procedure still relies on the physician's skill and experience to help control the robot and perform essential steps of the joint replacement procedure."
Dr. Karkare says he uses a new advanced robotic-assisted system which employs a robotic arm for precise placement and alignment of the artificial joint. "The hip replacement procedures are performed anteriorly, through the front and side of the hip, to spare major muscles so recovery is faster and less painful."
"Prior to surgery a three-dimensional virtual model of the hip is created to help plan the surgery for the most accurate and precise placement and optimal results," says Dr. Karkare. "The procedure itself is performed under general anesthesia. Once the incision is made to access the hip joint, the muscles are carefully moved aside to prevent damage."
The hip socket is cleaned and prepared, and the socket portion of the joint is carefully attached. Next, the end of the femur (the long leg bone) is removed to enable the ball portion of the joint to be attached. During the procedure, the computerized system and robotic arm provide visual and tactile feedback that can aid in placement of the artificial joint components so every surgical procedure can be truly customized based on each patient's unique anatomy and medical needs, reducing the risk of discrepancies in leg length while also decreasing the risk of abnormal friction between the implant and the natural bone.
"Although traumatic injury can cause some types of hip pain, most hip replacements are necessitated by normal wear-and-tear that then led to osteoarthritis in the joint," says Dr. Karkare. "Other common reasons a person may need hip replacement surgery include trauma, developmental dysplasia, reduced blood flow to the joint, abnormal growths and childhood hip disorders that cause excessive wear-and-tear." 
"People who are experiencing hip pain need to learn about all their treatment options," says Dr. Karkare. "I consider patients for joint replacement surgery only after all non-surgical approaches are exhausted in relieving joint pain."
"To determine if a patient requires surgery I use the '3 strikes rule'," says Dr. Karkare:
"The first strike is counted if the patient has joint pain with limited mobility, making it difficult to perform daily tasks such as climbing stairs or stepping in and out of the tub." 
"Then, I examine the painful knee or hip for range of motion and shape, as well as the patient's gait, or manner of walking."
"Finally I review diagnostic imaging to determine whether the patient suffers from arthritic degeneration of the joint. The patient fulfilling all "three strikes" criteria will be considered for a surgical procedure."
For more information visit http://www.newyorkhipknee.com and call 212-951-0182.