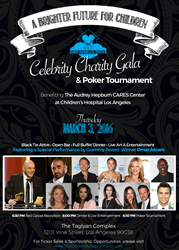 We are responsible for others. We do have the power to save lives, if we want to.
Los Angeles, CA (PRWEB) March 01, 2016
The Dream Builders Project is hosting their third annual A Brighter Future for Children Charity Gala at the Taglyan Complex in Los Angeles, California, on Thursday March 3, 2016. Entertainment for the night will include a Grammy award winning musical performance and celebrity-hosted poker tournament. 100% of the proceeds from live and silent auction sales, poker tournament buy-ins and re-buys, merchandise sales, and donations on the night, will go directly to the Audrey Hepburn CARES Center at Children's Hospital Los Angeles. Funds raised will aid the comprehensive medical evaluations and psychiatric rehabilitation of children who have been affected by physical, sexual, and psychological abuse.
A Brighter Future for Children 2016 has one main objective; to save the lives of children. With a confirmed guest list of over 400 celebrity, professional, and influential attendees, The Dream Builders Project has set its donation goals higher than ever before. To achieve its goal, this year's gala will provide guests with a great opportunity to give back to their community. The impressive lineup includes a Grammy award winning performance by composer and pianist, Omar Akram, as well as an acoustic performance by local indie band, Moloch, and a special dance performance by She Is, a nonprofit organization who provides a supportive and empowering environment for young girls who are survivors of sexual abuse and human trafficking.
Celebrity guests coming to show their support include Josh Bowman, Kat Graham, Kristen Renton, David Marciano, and Karina Smirnoff. As the evening's media partner, Angeleno Modern Luxury magazine will be covering the gala, including interviews and red carpet photos with celebrities.
Supporting brands of A Brighter Future for Children include Neiman Marcus Beverly Hills, LA Lakers, LA Kings, Pure Barre Hollywood, The London West Hollywood, Sue Wong, Sugarfina, Sprinkles Cupcakes, Le Jolie Medi Spa, and many more. Guests will also luxuriate in flowers from Flower Gypsy, organic beverages from Suja Juice, bags of Skinny Pop popcorn, arcade games from Royce's Arcade Warehouse, selfie opportunities thanks to PHHHOTO and Hive Social Lab, and a celebrity-hosted poker tournament with Tom Malloy, star of Love N' Dancing. An open bar will be courtesy of Tito's Vodka, Gaviota Tequila, Abigaile Brewery, and Sabina Vineyards.
"We are responsible for others. We do have the power to save lives, if we want to," says founder, Mayer Dahan. "Charity became a tool to heal my broken heart when I lost a very close friend to depression and drug abuse four years ago. It is how I realized that life isn't about money and power but rather about love and service. True happiness lies in helping others, and that is why we host A Brighter Future for Children, to provide a way for people to take responsibility for humanity, and do what I was unable to for my friend; save a life."
Tickets are still on sale for A Brighter Future for Children 2016 and can be purchased via http://www.thedreambuildersproject.com. To organize an interview with the founder of The Dream Builders Project or if you would like more information about the gala, please contact Lindsey Conger at pr(at)thedbproject(dot)com.
About The Dream Builders Project:
The Dream Builders Project was founded because of a passion for its community, a concern for humanity, and a frustration with wastefulness in spending. Our mission is to grow and develop the community with a rebelliousness and determination that will result in change.
The Dream Builders Project grows and develops the community by aiding, funding, and raising awareness about many of the city's key social issues, including child abuse and neglect, poverty, homelessness, education, and human trafficking. We are not restricted to any particular group or cause but are purely dedicated to the improvement of humanity. And with zero overhead and a commitment to give as much as possible, 100% of proceedings from every campaign is donated to the cause. http://www.thedreambuildersproject.com