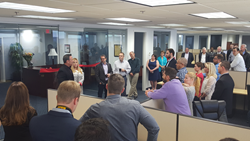 Being recognized by the publication I read every day is a thrill for me and Harmony Healthcare.
TAMPA, Florida (PRWEB) March 10, 2016
Harmony Healthcare is pleased to announce that hospital leaders seeking to improve their revenue cycle management (RCM) can find Harmony on Becker's Hospital Review's prestigious list of "Top 109" companies providing RCM services.
Becker's provides healthcare business and legal news to thousands of hospital decision-makers who recognize the necessity to keep their healthcare facility financially healthy in order to provide the best care for their patients.
Along with full-service RCM solutions like interim CFOs, PFS/CBO, and revenue cycle professionals, Harmony also offers Health Information Management (HIM) coding; offshoring and outsourcing; Auditing; Clinical Documentation Improvement (CDI); HIM leadership and other services to healthcare facilities and insurance companies.
Among Harmony's hundreds of clients, Becker's noted, are Ascension Healthcare, John's Hopkins and Yale-New Haven Hospital.
Harmony Healthcare's "CDI and ICD-10 Readiness Team" worked to ensure clients met the mandated October deadline to convert to the new ICD-10 coding system in order to protect facilities' revenue streams.
The Tampa-based company's reputation for top-quality, service and significant growth is being recognized. Harmony's three-year revenue growth rate of almost 920 percent earned it a place on Inc. Magazine's 2015 list of the 500 Fastest-Growing Private U.S. companies.
To handle its growth, Harmony just moved into new and bigger office space.
Founder and CEO Christopher H.G. Brown says, "Being recognized by the publication I read every day is a thrill for me and Harmony Healthcare. I feel our new space will allow Harmony to continue to fulfill that potential."
Brown founded Harmony Healthcare in 2010 after recognizing the switch from paper to digital medical records/HIM, clinical documentation improvement, ICD-10 and a myriad of other revenue cycle/HIM challenges would revolutionize the way hospitals and other healthcare facilities collected patient information, coded it, communicated with multiple insurance companies and collected revenue in a timely manner.
Previously, Brown founded and led Burlington Wells, an Accounting, Finance, IT and HR Interim and placement services Company, until it was sold to Monster.com/TMP Worldwide in 2000. Then he started Insights Search, a Health Information Management Interim and placement company, leading that business until On Assignment acquired it in 2006.