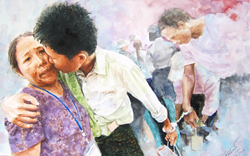 Seattle, WA (PRWEB) March 02, 2016
Aljoya Thornton Place, an Era Living retirement community, is hosting an art exhibition and gala on March 16 from 4:30 to 6:30 p.m. The public is welcome to enjoy the art show and complimentary hors d'oeuvres, beverages, and a performance of traditional music and dance by the Seattle area Karen Community.
The show, curated by June Sekiguchi, features art by Tun Kyi and Ann Leda Shapiro.
Tun Kyi was born in Burma in a small village in the Karen state. He left Burma in 1994, escaping economic desperation and ethnic prejudice. He went to a refugee camp clinic in Thailand near the border of Burma where he became a medic. His paintings reflect his situation, shared by so many others that have had to flee their country. He sells his paintings to foreign visitors in hopes that his paintings will remind people around the world of the plight of people in Burma.
Ann Leda Shapiro grew up in New York City. The paintings presented in this exhibit are inspired by the Museum of Natural History of New York, near her childhood home, that fed her curiosity and interest in science and culture. Ann now lives on Vashon Island in Washington State where she practices as an acupuncturist and pursues her art. Her work has been exhibited at the Whitney Museum of American Art in New York City, and two of her paintings were recently purchased for the collection of the Seattle Art Museum.
If you are interested in attending the gala, it is recommended that you RSVP to (206) 306-7920 by March 14. Aljoya Thornton Place is located at 450 NE 100th Street, Seattle, WA 98125.
Aljoya Thornton Place, one of Era Living's eight premier retirement communities, offers the perfect blend of village charm and urban lifestyle set in one of the most desirable continuing care retirement communities anywhere. For more information, please visit http://www.eraliving.com