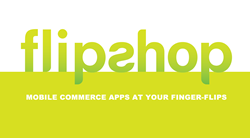 San Francisco, California (PRWEB) March 01, 2016
Flip Shop's Swipe technology makes shopping as easy as a finger flip. The Tinder like interface creates a shopping experience that is unique, addictive and adds gamification to the shopping experience. Users Swipe right to like products, or left to dislike. Products they have liked are added to their favorites and can also be purchased.
Flip Shop enables its partners to offer their customers a state of the art App with a unique shopping experience. Mobile users are demanding a better shopping experience than list views of small images or responsive versions of traditional e-commerce websites.
Flip Shop's mobile commerce solution leverages Swiping to attract new customers and engages existing customers. The software is agile with a fast implementation into iTunes & Google Play. They also have an expert team specializing in a product that evolves and keeps your technical resources free. Flip Shop has successfully integrated with Shopify, Magento and other e-commerce platforms.
Flip Shop Apps drive increased user interaction by learning individual preferences and then recommending more relevant products as the user swipes through items. The platform also re-engages users with sale and in-app notifications for items they have added to their favorites.
App users can make a purchase of the items they want with just one tap on the "Purchase Now" button. Flip Shop is dedicated to eliminating the traditional e-commerce path to purchase model that is ineffective on mobile devices. Instead, they securely store the payment information as well as the shipping address so that users can make a purchase in just one touch.