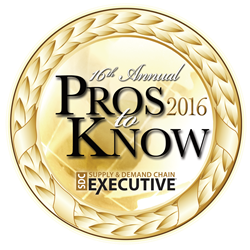 Reading, PA (PRWEB) March 04, 2016
For the second consecutive year, one of MEBC's leaders is being recognized on Supply & Demand Chain Executive Magazine's 16th annual listing of "Pros to Know" in the supply chain industry. Bob Patel was nominated and received this award due to his hard work, his commitment to excellence, and his use of innovative methods for overcoming obstacles that our clients often face.
Bob, having been a leader in the supply chain world for more than 22 years, believes that customers are increasingly facing a more complex supply chain that has evolved beyond the basics. His clients view him as an integral member of their project teams and a trusted supply chain management and technology advisor. MEBC looks forward to Bob's continued leadership in developing MEBC's award winning services to support our company's growing list of clients.
Bob has led supply chain transformation projects at several industry leading companies. Recently, at a leading premium wine manufacturer, Bob acted as the supply chain planning expert to implement JDA Supply Chain Solutions. In the end, the client successfully reduced their inventory by $45 million in the first year by implementing S&OP and Collaborative Forecast planning processes. Currently, Bob is working with a longtime MEBC client who partners with a global Quick Serve Restaurant chain to develop and deploy a fully integrated supply chain planning process and technology solution across 25,000 restaurants. This modernized global planning capability is expected to reduce technology costs and standardize business processes in addition to the anticipated benefits for optimized inventory planning in a highly event-driven industry.
Bob and the entire team, is proud of this achievement and to be part of Supply & Demand Chain Executive Magazine's "Pros to Know" listing for 2016. We are honored to receive this recognition and, as we look towards the future, we are excited to see even more innovative and advanced contributions to the supply chain planning industry from Bob and all MEBC leaders. See the official award announcement on Supply & Demand Chain Executive Magazine's website here.
About MEBC
MEBC is an ESOP company of Supply Chain Thought Leaders and Technologists who align People | Process | Technology to drive our clients success. Our people bring practical knowledge of end-to-end supply chain processes with deep technical expertise in the SCM and ERP technologies that support them. MEBC has addressed the Supply Chain challenges of global Fortune 1000 and high-growth SMB companies along with Federal agencies. As a premier JDA Software Alliance Partner, we have received our fourth consecutive award from JDA for our innovation, technical expertise, and client services excellence. MEBC has also earned recent recognitions on SupplyChainBrain's Top 100 Great Supply Chain Partners listing in 2015 and two consecutive awards for our team on Supply & Demand Chain Executive Magazine's Pros to Know list.
MEBC. Supply Chain Advantage. DELIVERED.
To learn more, visit http://www.mebcglobal.com