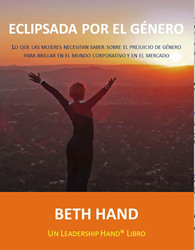 We know that when women thrive, it contributes to a more prosperous and inclusive world for everyone.
ALEXANDRIA, Va. (PRWEB) February 29, 2016
Author Beth Hand, CEO of Leadership Hand, has released the Spanish language version of her latest book, "Hidden By Gender: What Women Need to Know About Gender Bias to Shine in the Corporate Space & the Marketplace" to correspond with the March 8 celebration of International Women's Day.
The sixth book in the Leadership Hand® business and leadership book series, "Hidden by Gender" was written for women business owners and women leaders in organizations looking to achieve greater success and have a greater impact on the world. Hand chose to release the Spanish Language version, titled "Eclipsadas por el género: Lo que las mujeres necesitan saber sobre el prejuicio de género para brillar en el mundo corporativo y en el mercado," to help women in the emerging markets in Central America leverage their potential and power.
"Eclipsadas por el género" also features Elizabeth Vazquez, CEO and co-founder of WEConnect International, whose organization helps women owned businesses globally get into multinational value chains.
Broken into three parts, "Eclipsadas por el género" offers Hand's expertise, insight and guidance for women on the hidden playing field created by gender bias, and mentors readers on strategies to lead more powerfully for greater success:

Part 1 presents the global view of a world in which women and girls face unequal opportunities, a situation that threatens the very survival of many.
Part 2 shows how gender inequality can affect both men and women, and offers a practical mindset that allows women to see and level the playing field.
Part 3 shares proven strategies that help women in leadership roles and their teams stand out in the corporate space and the marketplace.
"It's my hope and wish that this book helps women leaders and entrepreneurs lead even more powerfully," Hand says. "We know that when women thrive, it contributes to a more prosperous and inclusive world for everyone."
Like "Hidden By Gender," "Eclipsadas por el género" is a book for executives, managers and supervisors who wish to make the most of what women represent in the corporate world. It is a book for entrepreneurs leading their own businesses. It is the sixth book of the Leadership Hand® book series which features CEOs, Presidents, Senior Vice Presidents and Senior Directors from WalMart, Cadbury, Fairtrade International, Habitat for Humanity, U.S. Fund for UNICEF, Emerging Markets Private Equity Association, Spring Health, WEConnect International and more.
"Hidden by Gender" was inspired by Hand's firm belief in the potential of women in companies, and women-led small and medium-sized businesses in both the developed world and developing countries to act as catalysts for global welfare.
Hand believes women are powerhouses for global good, and she is bringing the weight of her 20-plus year career as a consultant, executive coach and entrepreneur and passionate commitment to helping women's leaders thrive in developed and developing countries.
Her research has resulted in unexpected insights drawn from conversations with innovative pioneers like Vazquez, Neuroeconomist Kevin McCabe, D.O., and cutting-edge publications by economic experts Uri Gneezy, Ph.D., professor of Economics & Strategy at the Rady School of Management at UC San Diego; John List, Ph.D., the Homer J. Livingston Distinguished Service Professor in Economics and Chairman of the Department of Economics at the University of Chicago, and Faye Crosby, Ph.D., a social psychologist specializing in social justice behaviors.
Combining her research on global inequality with her extensive experience with business and social leaders, and teams in Fortune 500, small and medium enterprises, Hand developed her strategies to help women stand out in the corporate world and as entrepreneurs in a way that promotes an inclusive environment for everyone—women, men, girls and boys. Hand plans to release an Arabic language version of "Hidden by Gender" in the near future.
Hand is currently accepting speaking opportunities for organizations worldwide.
To learn more about Author Beth Hand and to inquire about scheduling a speaking engagement, visit the Leadership Hand website, email media@leadershiphand.com, or call 703 820 8018. Follow on Twitter at @Beth_Hand1, and on LinkedIn at linkedin.com/in/bethhand
About the Author:
Author Beth Hand is CEO of Leadership Hand LLC, a leadership development business based in Alexandria, Virginia that helps mission-driven leaders in Fortune 500, medium and small enterprises worldwide achieve strategic results. An award-winning executive coach who has consulted on $300 million up to $1 billion dollar initiatives, she was one of a select number of women consultants engaged by the Turkish General Directorate of Revenues to assist with setting the framework, program and change management strategy for a countrywide infrastructure project.
Hand has an MBA in Business, and has lived in Paris, France and Salamanca, Spain, and traveled in Western Europe, Central America, Central and East Asia, and North Africa. She has contributed to or been featured in three business books, is a contributor to the Huffington Post on women and leadership, and to Enterprising Women Magazine which reaches women entrepreneurs in 185 countries. Hand is an advocate for women around the world.
About Leadership Hand:
Leadership Hand is an Alexandria, Virginia-based, leadership development business offering executive coaching and leadership development for teams and groups worldwide. The company provides world class expertise to help mission-driven leaders and their teams excel.
###