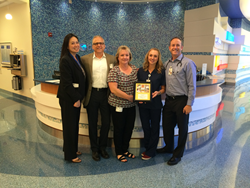 "What really touches and inspires me is that on top of the money raised for such an important cause, everyone who participates does so with a true attitude of caring, which attests to the spirit of giving at Yamaha and beyond," said Dave Jewell, Yamaha.
BUENA PARK, Calif. (PRWEB) March 01, 2016
For the eighth consecutive year, Yamaha Cares participated in the Southern California Half Marathon and 5K races to raise money for Type 1 juvenile diabetes research at Children's Hospital of Orange County (CHOC Children's).
In January, over a dozen Yamaha staff members and friends completed one of the two races and more than 150 individuals contributed donations, the highest number of participants since the program's inception. The money raised — more than $18,000 with the help of Yamaha Cares — brings the grand total of overall donations to just over $95,000.
The check was presented last week to CHOC Children's, one of just a handful of research facilities in the U.S. trying to find a cure for Type 1 juvenile diabetes.
"Thanks to the generous spirit of my colleagues at Yamaha and others from the community, this fundraising effort just gets bigger, broader and better each year," said Dave Jewell, marketing communications manager, Yamaha Corporation of America. "Whether it's running in one of the races, pledging financial support or both, year after year, participation rises to an even higher level in so many ways. What really touches and inspires me is that on top of the money raised for such an important cause, everyone who participates does so with a true attitude of caring, which attests to the spirit of giving at Yamaha and beyond."
Jewell began to raise funds and awareness for the hospital after doctors diagnosed his daughter, Katrina, with Type 1 juvenile diabetes in 2005. This year was particularly special for Katrina, now 23: not only did she complete the half marathon, but she's also employed as a CHOC Children's phlebotomist.
Having graduated from the University of California at Santa Cruz where she majored in molecular, cell and developmental microbiology, Katrina is pursuing a career as a physician's assistant.
"Not only does her current position bring her closer to her professional goal of becoming a physician's assistant, but Katrina is also able to bring a unique perspective for patients since she went through what they're going through now," her father explained.
For the second consecutive year, Dave Jewell created a CrowdRise campaign, KatrinaKures, to encourage online donations. In addition, local merchants from where the Jewells live and work, including many from the Placentia Town Center shopping mall, provided Santa photos for small donations to the cause. The Corner Bakery in Anaheim Hills and the Tempo Urban Kitchen in Brea donated the food for the post-race gathering to help offset the overall cost so additional funds could be donated to CHOC. An informal group of friends from LA Fitness where Dave Jewell works out, known as "The Gym Ratz" contributed to the community spirit that marked the campaign this year.
"Rather than covering any administrative costs, 100 percent of the money raised by this initiative goes directly towards research and case studies, which will hopefully result in a cure, thanks to a special fund set up by the hospital," Jewell said.
CHOC Children's diabetes program is the first in Southern California to be recognized for meeting and maintaining American Diabetes Association (ADA) standards of care guidelines. It is also one of the largest screening sites for the National Institutes of Health-sponsored Diabetes Prevention Trial-1, which seeks to reveal causes of the disease, identify preventative measures and find a cure.
Yamaha Cares is an employee-based initiative dedicated to charitable works to promote education, arts, health and human services, and community development in the areas where its employees live and work, as well as to spread the gift of music to people throughout the U.S. For more information, visit http://4wrd.it/YAMAHACARES.
-END-
About Yamaha
Yamaha Corporation of America (YCA) is one of the largest subsidiaries of Yamaha Corporation, Japan and offers a full line of award-winning musical instruments, sound reinforcement, commercial installation and home entertainment products to the U.S. market. Products include: Yamaha acoustic, digital and hybrid pianos, portable keyboards, guitars, acoustic and electronic drums, band and orchestral instruments, marching percussion products, synthesizers, professional digital and analog audio equipment, Steinberg recording products and NEXO commercial audio products, as well as AV receivers, amplifiers, MusicCast wireless multiroom audio systems, Blu-ray/CD players, earphones, headphones, home-theater-in-a-box systems, sound bars and its exclusive line of Digital Sound Projectors. YCA markets innovative, finely crafted technology and entertainment products and musical instruments targeted to the hobbyist, education, worship, music, professional audio installation and consumer markets.