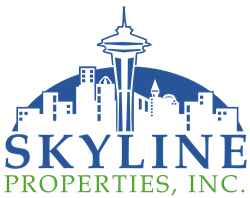 We are extremely happy with our growth this past year and with the continued strong growth we're already experiencing in 2016. It's looking to be another amazing year in real estate!
Seattle, Wa (PRWEB) March 09, 2016
December 2015 marked the 27th year that Skyline Properties has been serving the Northwest. It was a big year for the company with two new offices and over $1.3 billion in sales. Growth has been seen throughout the real estate industry, and veteran real estate brokers and new brokers alike are drawn to Skyline Properties for their low fee, 100% commission structure, and exceptional manager support.
Ron Hennig and Pete Lance founded Skyline Properties in 1988 on the belief that brokers shouldn't have to pay 50 percent of their commissions along with a 6 percent franchise fee to get great support from a quality company. Ron and Pete were pioneers of the 100% concept back in 1988 and took some harsh criticism from other local franchises. Skyline Properties owner Ron Hennig remembers it well, "To say the criticism we received was harsh would be an understatement." He goes on, "Our program was a direct challenge to their established programs. Skyline showed local agents that a company didn't have to demand over 50 percent of their income to be dedicated to providing professional support."
The concept worked. Skyline grew from one office in Bellevue with two agents in 1988, to five Puget Sound offices and over 640 agents today. This past year Skyline had over 3200 closings, $1.3 billion in sales and paid out over $32 million in gross commissions, and it's not slowing down. The beginning of 2016 has continued to be busy as they open two new offices, an upgraded one in Northgate and a new one in Bothell. This growth also spurred on the need for two more managers and the appointment of a new Vice President, Scott Hotes. According to Ron Hennig, "Scott was instrumental in many recent changes including the development of our new phone app." Scott first joined Skyline in the early 90's and for the last six years has served as a branch manager. His appointment to Vice President of the company came as a surprise to no one. As Ron Hennig reports, "There are countless improvements that would not have been possible if Scott had not picked up the ball and supervised their completion."
Skyline Properties is one of the most diverse companies in the greater Seattle area with over 70 different languages spoken. "We are proud of being locally owned and operated with the greatest diversity of any real estate company in the Northwest," says Skyline's owner Ron Hennig. "We are extremely happy with our growth this past year, " he continues, "and with the continued strong growth we're already experiencing in 2016. It's looking to be another amazing year in real estate!"