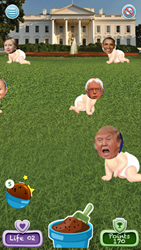 (PRWEB) March 01, 2016
The iPhone game Hit In The Face has been updated for the 2016 primary season. In addition to the original playroom environment, users can now select a beach or even 1600 Pennsylvania Avenue.
The objective of Hit In The Face is to toss mud from a bucket at prominent faces.
"This is the perfect game to play while standing on line at your local polling place. We've even included the White House lawn as a playing field," says app creator Michael Anzalone of Hit In The Face Games, LLC. He calls the game "addictive, fun, and stress relieving."
Hit In The Face is available for free on the iTunes App Store.
Hit In The Face is simple: just swipe a finger across the screen to throw a scoop full of mud. Users provide at least one photo of a "villain" and at least four photos of "friends". The heads of friends and villains are pasted onto babies who crawl, walk and run across the playing field.
Hitting a villain's face earns the player points - more for babies that are moving faster or are farther away. Hitting a friend costs the player one of three lives.
The supply of mud is unlimited, but players start with only five "dirt bombs" that can take out multiple targets. More dirt bombs can be purchased within the app. Also available for purchase are the faces of major 2016 presidential candidates Hillary Clinton, Bernie Sanders, Donald Trump, Ted Cruz, Marco Rubio, and Ben Carson, as well as world leaders, other politicians, and celebrities. Hitting these villains earns multiplier points.
Hit In The Face was developed by Zco Corporation for Hit in the Face Games, LLC. "Zco truly exceeded my expectations on every level," Anzalone said.
About the Developer
Zco Corporation is a tried-and-true software development company that has been living and breathing technology for over 25 years. A proven and reliable vendor choice, Zco is passionate in its mission to create attractive, resilient products for its clients. Its powerhouse team, one of the largest in the world, was handpicked for specialties in mobile app development, enterprise software, and animation services. To learn more, visit Zco.com or call 603.881.9200.