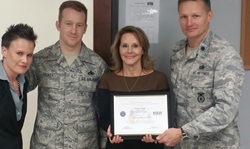 We are so proud of Donna Hugh and the facility for being recognized for our commitment to supporting military personnel.
Lake Arrowhead, California (PRWEB) March 02, 2016
In recognition for its continued support and encouragement of military employees, Above It All Treatment Center has been nominated for the Freedom Award, and its Clinical Director, Donna Hugh, was nominated and selected for the Patriot Award. The Employer Support of the National Guard and Reserve, a federally recognized program, presents the Patriot Award and the Freedom Award, which will be selected later this year.
A military member employed by Above It All Treatment Center nominated Hugh for the Patriot Award. She was presented with this award by the United States Secretary of Defense, and Above It All received an honorable mention.
"We are so proud of Donna Hugh and the facility for being recognized for our commitment to supporting military personnel," said Bianca Cirimele, Director of Marketing. "Members of the military give a great service to our country and we are proud to be able to support them in being successful in the workplace and balancing their military responsibilities with civilian responsibilities."
Hugh was nominated by an employee for her flexibility and compassion in allowing military employees to make up missed hours, changing schedule to accommodate mission requirements and creating a schedule that facilitates a positive sense of well-being and self-care. Hugh ensures that the team at Above It All is aware of military obligations of fellow co-workers and remains respectful to their service. Clinical meetings are held each week to make sure all gaps in coverage are filled for optimal client care and that employees know how to best support one another in achieving these goals. Hugh has used the military member's experience as a learning tool to encourage team building and cultivate a positive, respectful environment full of morale and support for one another.
"Donna exemplifies our goals here to treat all employees, including those in the military, with the utmost respect," said Cirimele. "She goes above and beyond to create an environment where military members can continue their service without fear of missing time at work to fulfill their obligations. Everyone steps up to do their part and keep things running as smoothly and efficiently as possible. Donna recognizes the demands placed on military personnel and collaborates with them to provide time for self-care and reduce risk of burnout."
Hugh will be honored in magazines and newspapers across the country for her support of the nation's military, and Above It All Treatment Center has received an honorable mention as well as its own nomination for the Freedom Award to recognize its support as an organization.
More information about Above It All Treatment Center is available online at http://www.aboveitalltreatment.com.
ABOUT:
Above It All Treatment Center is a fully accredited addiction treatment center located in Lake Arrowhead, California. It is licensed and certified by the California Department of Health Care Services (DHCS), accredited by the Commission on Accreditation of Rehabilitation Facilities (CARF), and a member of the National Association of Addiction Treatment Providers (NAATP). The facility offers evidence-based models of treatment and follows the 12-step methodology. In addition, clients engage in holistic activities to strengthen mind, body and spirit, as they are equipped with the strategies and resources necessary for recovery. Above It All is nestled high in in the majestic mountains of the San Bernardino National Forest providing a beautiful and serene environment.