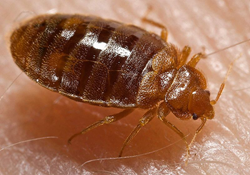 Early detection is key when dealing with bed bugs.
Chicago, IL (PRWEB) March 01, 2016
Bird-X's blog released on February 24th, 2016 discusses the problems bed bugs cause for people in residential areas. Spotting early signs of infestation, such as itchy bites on the skin or visible blood stains on bed sheets, can help avoid spending thousands of dollars on removal.
According to Liherald.com, bed bugs are a serious issue in Long Beach City, New York, where the Housing Authority has already spent $50,000 on bed bug extermination and other preventative measures. The situation has even extended outside of the 108-unit apartments, because of the multitude of unreported cases.
Risk becomes a determining factor in whether or not residents want to report bed bug presence. One individual knows of four unrecorded bed bug cases. The article explains why saying, "…most tenants stay quiet due to the condition of their homes, or if they owe rent." Another individual mentions that a schoolteacher recognized bites on one of her students and informed the parents. Because the family was facing eviction, the child's parents kept the bed bug situation a secret from the property management.
Marshfield, Wisconsin is also in the midst of a bed bug dilemma. Waow.com states, "At least five to ten cases of bed bugs have been reported in Marshfield residences since mid-December." The article mentions that although these pests may create irritating rashes and bumps as a result of their bite, the bugs cannot transfer diseases.
Early detection is key when dealing with bed bugs. Products like Bird-X's Bed Bug ALERT Monitor can ensure peace of mind by confirming whether or not the pests exist in your home. If bed bugs are a problem for you and your family, Woaw.com recommends that regularly vacuuming and drying bed sheets on high heat may help to counteract the problem.
Bird-X is familiar with the chaos bed bugs can cause. With over 50 years of humane pest control experience, the company is dedicated to protecting human health, wildlife, and the environment in which we all live. Based in the Chicago-land area, the company manufactures a complete line of unique pest control products with an unmatched focus on quality, efficacy, and customer service.