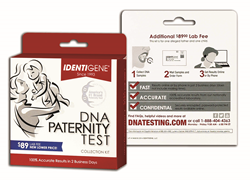 We are pleased to bring 100% accurate, convenient, and affordable DNA paternity testing to more Texas families
Salt Lake City, UT. (PRWEB) March 02, 2016
IDENTIGENE, LLC, the first company to offer an over-the-counter paternity test kit to consumers, announces new retail distribution. The IDENTIGENE Paternity Test Kit is now available at H-E-B, one of the largest independent food retailers in the nation.
The IDENTIGENE DNA Paternity Test Kit is the #1 brand in America, offering an affordable way for families to obtain fast, accurate and confidential DNA paternity answers. 100% accurate results are available online or over the phone two days after samples arrive at the laboratory. IDENTIGENE is a global leader in genetic testing, providing personal and legal paternity tests as well as other relationship testing such as grandparentage, avuncular and siblingship tests. The Salt Lake City laboratory is one of the most highly accredited in the world. The IDENTIGENE DNA Paternity Test Kit provides everything needed to collect DNA samples in the privacy of home, and includes a postage-paid envelope in which to mail samples to the IDENTIGENE laboratory.
Steve Smith, Executive Director at IDENTIGENE, says, "We are pleased to be a part of the H-E-B line-up of health and wellness services and to bring 100% accurate, convenient, and affordable DNA paternity testing to more Texas families."
About IDENTIGENE
IDENTIGENE is America's #1 brand for DNA paternity testing and is a global leader in the industry, providing personal and legal paternity tests and a variety of relationship testing for clients around the world. IDENTIGENE, the first company to bring DNA paternity testing to the general consumer through major drugstores, grocery stores and supercenters, is nationally and internationally accredited for both DNA paternity and molecular diagnostic testing services. IDENTIGENE is a privately-held, wholly-owned subsidiary of Sorenson Genomics, which is a highly accredited genetic laboratory renowned for its expertise in human identity, forensics DNA testing and population genetics.
Visit http://www.DNAtesting.com for industry-leading resources, including how-to videos, a store locator, customer reviews and more. Connect with IDENTIGENE on Facebook or follow the company on Twitter at @Identigene.
Contact:
Carolyn Engerman
IDENTIGENE Marketing Specialist
cengerman(at)sorensongenomics(dot)com
801-462-1476