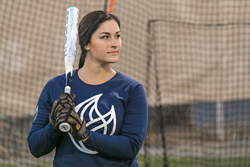 "The first time I used the POWERHANDZ softball gloves, I immediately loved them. I am proud to share this training tool with my colleagues and youth around the world."
Dallas, TX (PRWEB) March 01, 2016
POWERHANDZ Inc., a leading athletic training products company, is partnering with softball superstar Lauren Chamberlain to help guide the strategic direction for POWERHANDZ in softball. The company is focused on introducing its Weighted Pure Grip Softball Gloves to all youth and professionals who are training to reach peak performance in softball.
Lauren Chamberlain, four-time All-American, NCAA Home Run Record-Setter and current USSSA Pride Star, is the latest athlete to join the "OUR TIME" movement. Last year, POWERHANDZ announced the launch of the "OUR TIME" training campaign, an initiative focused on empowering female athletes to train with confidence and break through their own glass ceilings.
Chamberlain joins two-time Olympic gold medalist Hope Solo, Former LPGA Pro Nicole Hage and the Dallas Black Dance Theatre's Michelle Zada as ambassadors of the "OUR TIME" movement.
"The 'OUR TIME' campaign acknowledges that women can achieve the impossible and there is no limit to what we can accomplish which is my life mantra. Partnering with an innovative company dedicated to helping female athletes of all ages train to be the best was a perfect fit for me," says Chamberlain. "The first time I used the POWERHANDZ softball gloves, I immediately loved them. I am proud to share this training tool with my colleagues and youth around the world."
Danyel Surrency Jones, Co-Founder and COO of POWERHANDZ adds, "Chamberlain is an ideal Brand Ambassador for POWERHANDZ and the 'OUR TIME' training campaign. She is a phenomenal young athlete who realizes the importance of skill development and more importantly, inspires others to become the best versions of themselves."
Additional Information
POWERHANDZ offers three sets of premium, patent-pending weighted training gloves: Pure-Grip, Anti-Grip and Extreme-Grip. They are designed for Baseball/Softball, Basketball, Football, Golf and General Sports Training. POWERHANDZ also makes a Basketball Slick Wrap which wraps around the circumference of a basketball during training. All products are designed for skill development training for athletes of all ages and are available on powerhandz.com.
About POWERHANDZ
Based out of Dallas, Texas, POWERHANDZ includes a line of performance-enhancing sports training products innovatively designed to both strengthen hand and arm muscles and intensify players' dexterity. There are six products in the portfolio designed for basketball, baseball/softball, football, soccer, golf and lifestyle training sports. These products are sold worldwide and are used by athletes of all different skill levels, youth to professionals. Visit the company website for more information http://www.Powerhandz.com
POWERHANDZ has a deep commitment to giving back, thus The Power to Give Foundation was formed when the company was established. The Power to Give Foundation aims to raise awareness on the importance of organized sporting programs and help fund these programs in financially challenged communities. The Power to Give Foundation believes in the immediate and lifelong benefits from participating in sports. A portion of every product sold for POWERHANDZ goes to the Power to Give Foundation, giving anyone the opportunity to make a difference.
Connect / Follow POWERHANDZ
Twitter: @POWERHANDZ | Facebook | Instagram
Media Contact
Alex Onaindia
Account Coordinator
GreenRoom
alex(dot)o(at)grnrm(dot)com
(305) 347-1787 Ext. 310