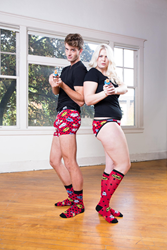 Portland, Oregon (PRWEB) March 01, 2016
Sock It to Me, the Portland-based designer renowned for fun, vibrant, expressive socks for women, men, and children, is launching a brand new underwear line.
Founded in 2004, Sock It to Me pioneered the stylish, novelty sock trend that is so popular today. Sock It to Me's mission is to inspire people to be confident, have fun, and express themselves. Founder Carrie Atkinson believes underwear is the natural next step for bringing self-expression and personality to accessories. Sock It to Me's underwear line is changing people's opinions about the experience of buying intimate apparel from a private, hidden act to a shareable and fun experience–unmentionables worth mentioning.
"Underwear, like socks, is a daily necessity. But no one said they have to be boring! After years of development, we have achieved the perfect mix of comfort and bold styles for underwear that we are known for. We hope that our underwear line will make our fans feel confident and powerful, just like our socks do," said Michelle Walker, CEO of Sock It to Me.
Confidence is key when running down the street in just underwear in the middle of February. To kick start their underwear line, Sock It to Me donated custom designed underwear and socks for Cupid's Undie Run. Individuals across the nation lined up in just their Sock It to Me underwear and ran to raise millions for the Children's Tumor Foundation. This run, like Sock It to Me, promotes fun with a purpose.
Sock It to Me brought the same iconic styles and carefully crafted comfort to underwear that makes their socks so popular. Starting with their top-selling sock designs, their underwear line currently includes styles such as Bacon, Blamo, Planets, Cameow, Rainbow Blast, Plume, and Badass printed on men's boxer-briefs and women's bikini underwear. The stretchy combed cotton provides both breathability and support so the underwear is as comfortable as it is stylish. The variety of designs provides matching sets of women's and men's styles, as well as sock & undie sets. Sock It to Me plans to expand into even more best-selling designs for their Fall 2016 release.
Current underwear collection is available at http://www.sockittome.com/underwear.html and Sock It to Me retail partners worldwide. For more information, please visit http://www.sockittome.com.