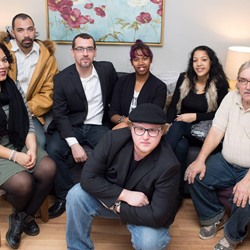 Carpenter said, " I felt that it was important to make the show not only entertaining, but also a product that would really help people. I think we were able to accomplish those goals."
Hagerstown, MD (PRWEB) February 29, 2016
A new YouTube channel called "Real Family Business" is launching on March 1, 2016. Author Whitney Carpenter and her family are the series' stars bringing a mix of comedy and a harsh reality of what it takes to own a turn key property business. Carpenter said, "We started on this venture to simply explain what we do at Billwood Properties, but when we watched the footage we realized we had so much more of a story."
The show has elements of the HGTV programs that follow couples flipping houses but also incorporates a wonderful mix of family personalities making the show both educational and captivating.
Carpenter states, "I'm very excited to launch the series. We created a trailer then posted it on Facebook and YouTube. We were wonderfully surprised by all the views and comments. I felt that it was important to make the show not only entertaining, but also a product that would really help people. I think we were able to accomplish those goals."
"Real Family Business" is debuting the first three episodes March 1, 2016 on YouTube and then will release the next two episodes a month later. The show will also be screening one of their episodes during the Maryland International Film Festival April 1-3.
"It is such an amazing time for me right now, first the book "The Passive Way to Passive Income" was released in December and now all the excitement behind our show. I feel so blessed, " says Carpenter. "I'm looking forward to seeing what happen next."
About the author and YouTube star: Carpenter's expertise in real estate not only benefited her personally but also supported her family in ways she could never imagine. The author who once waited tables at the Waffle House has now become a savvy businesswoman. Real Family Business and The Passive Way to Passive Income share Carpenter's career experience and passion. Her story is captured through a narrative exploration and film detailing her journey to success. Carpenter gives insight on how networking and hard work helped boost her comprehension and love for the business.
For more information about Real Family Business, A Passive Way to Passive Income or about the author log onto http://www.whitneycarpenterauthor.com.