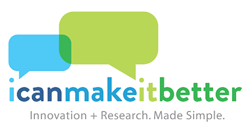 "The partnership with ISA and LRW will allow our leading platform to scale globally and further empower the voice of the customer to engage with business and create better outcomes for all parties." - Paul Janowitz, Founder and CEO
Los Angeles, CA (PRWEB) March 02, 2016
LRW (Lieberman Research Worldwide), a leading market research and data analytics company, announced that its sister company, ISA, has acquired icanmakeitbetter, a leading communities platform and its parent company Sentient Services. Both LRW and ISA will offer online communities to their clients, which include major global brands and research companies, respectively.
Dave Sackman, Chairman and CEO of LRW said, "LRW's goal is to meet the changing needs of CMOs and their marketing organizations. Marketers need insight at the speed of the market to help them survive and thrive in our fast paced, hyper-competitive world. The icanmakeitbetter software platform delivers against that need with what we believe is the most advanced and sophisticated communities platform in the industry."
This is just the first in a planned series of acquisitions that the LRW group of companies will make related to its decision mid-2015 to partner with and take on growth capital from Tailwind Capital Partners. This is part of LRW's commitment to becoming the leading "integrated analytics" company in what some are calling the "new MR" space, utilizing and integrating diverse streams of consumer and customer data to provide better "so what?®" impact for its clients. LRW's overarching goal is to provide more sophisticated, consultative answers for its clients who have increasingly complex business and marketing issues by integrating survey, social media, digital, geo-demographic, as well as other data types and sources to their analytical frameworks and consulting practice.
Paul Janowitz, Founder and CEO, said "We're very excited about joining the ISA group of companies and working alongside SoapBoxSample to expand our respective capabilities. Today is truly an exciting day and a triumph for innovation and customer collaboration in the research and insights industry. The partnership with ISA and LRW will allow our leading platform to scale globally and further empower the voice of the customer to engage with business and create better outcomes for all parties. With this partnership we are able to greatly expand and enhance our client services offerings, grow globally and continue to focus on creating an amazing software platform and delighting our clients." Janowitz and the current management team will continue on in their current roles at Sentient.
###
About Sentient Services and icanmakeitbetter:
icanmakeitbetter (http://www.icanmakeitbetter.com) provides online customer insight communities that make it easy to research, innovate and get feedback – anytime, anywhere, from anyone. The icanmakeitbetter platform delivers more than research, it drives conversations that matter on a human scale that improve an organization's products, services and experiences through the power of customer engagement and listening. Founded in 2003, the company is headquartered in Austin, Texas.
About ISA:
Since 1982, ISA has been a leading provider of data collection, processing and multicultural services to and for the market research industry. Headquartered in Van Nuys California, ISA and its two divisions, SoapBoxSample and Q-insights, remain at the forefront of the data gathering process. Global clients rely on the ISA group of companies for online, mobile, telephone, in-person, IVR, and focus groups, all in a variety of languages.
About Lieberman Research Worldwide (LRW):
LRW is recognized as one of the ten most innovative firms in its industry and is one of the 25 largest market research firms in the world. Since 1973, LRW has been providing its data-driven consulting services to management teams of top global brands on issues such as strategy, branding, communications, new product development, and customer experience. LRW leverages its unique "so what?®" consulting model, sophisticated marketing science capabilities and recent innovations in Pragmatic Brain Science® to deliver real business impact across a wide range of industries. LRW is headquartered in Los Angeles with offices in London, New York, Philadelphia, Chicago, and Orange County.
For more information, contact Joan Cassidy at jcassidy(at)LRWonline(dot)com or Jacqueline Rosales at jrosales(at)soapboxsample(dot)com.