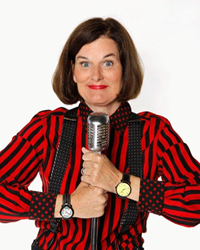 "At the top of her game…" (San Francisco Chronicle)
San Rafael, CA (PRWEB) March 02, 2016
The Other Café Comedy Showcase and The Kanbar Center for the Performing Arts at the Osher Marin JCC are proud to present another laugh-filled evening of great comedy fun from one of the funniest stand-up comics working today, as Paula Poundstone returns to the Osher Marin JCC's Hoytt Theater.
Paula Poundstone's ability to be spontaneous with a crowd separates her performances from other contemporary comedians which is exactly what has made her a legend among comics and audiences alike.
Poundstone says, "No two shows I do are the same. It's not that I don't repeat material. I do. My shows, when they're good, and I like to think they often are, are like a cocktail party. When you first get there, you talk about how badly you got lost and how hard it was to find parking. Then you tell a story about your kids or what you just saw on the news. You meet some new people and ask them about themselves. Then, someone says, 'Tell that story you used to tell', and then someone on the other side of the room spills a drink, and you mock them. No one ever applauds me when I leave a party, though. I think they high five."
A Paula Poundstone performance always leaves you marveling at her ability to interact with the audience, and the resulting hilarity. Armed with nothing but a stool, a microphone and a Diet Pepsi, Paula's ability to create humor on the spot has become the stuff of legends. Little wonder people leave her shows complaining that their cheeks hurt from laughter, and debating whether the random people she talked to are "plants" – which of course, they never are.
"Never been funnier…" (Boston Globe)
"Insightful, thought-provoking humor…" (Chicago Tribune)
WHEN: Saturday May 14, 2016 @ 8:00 pm ~ No Host Cocktails @ 6:45pm; Doors Open @ 7pm; VIP Reception @ 7:15pm, Show begins @ 8:00pm
WHAT: An Evening with Paula Poundstone presented in association with The Other Café Comedy Showcase
WHO: All are invited.
TICKETS: Tickets are from $32.50 to $74.50 with 4 tiered seating choices; including reserved VIP seating, which includes a pre-event private artist's reception.
WHERE: The Osher Marin JCC, 200 N. San Pedro Rd, San Rafael, CA 94903~415.444.8000
MORE: Concessions, including cocktails, sodas, Peet's Coffee & Teas, sweets & savories. Available for purchase from 6:45pm and allowed in the theater.
TICKETS: More Info Available at JCC website (http://www.marinjcc.org) or The Other Café website
PARKING: FREE on site and street parking
The Kanbar Center for the Performing Arts is the Performing Arts Department within the Osher Marin Jewish Community Center in San Rafael, California. Spreading the power of music, voice, humor, taste, culture, movement and words throughout the community for over 20 years. Presenting classical music, club style dancing events, comedy, music concerts, theater and performance in the grand Hoytt Theater; lectures, chats and demonstrations in the Kurland Lounge; and great world music and dancing for all ages outdoors under summer skies on Swig Field. All are welcome; no membership is required to attend.