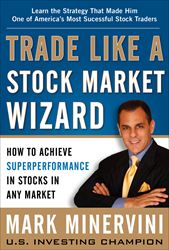 New York, NY (PRWEB) March 02, 2016
U.S. Investing Champion Mark Minervini – Author of the best-selling book Trade Like a Stock Market Wizard; How to Achieve Superperformance in Stocks – will be at Barnes & Noble in New York City (160 E. 54th Street & 3rd Avenue) – Thursday, March 10 at 5:30PM.
Starting with only a few thousand dollars, Minervini turned his personal trading account into millions averaging 220% per year for five consecutive years with only one losing quarter. To put that in perspective, a $100,000 account would explode to over $30 million. During that period, Minervini also won the U.S. Investing Championship with a 155% return.
Minervini is featured in Jack Schwager's Stock Market Wizards: Conversations with America's Top Stock Traders. Schwager wrote: "Minervini's performance has been nothing short of astounding. Most traders and money managers would be delighted to have Minervini's worst year—a 128 percent gain—as their best."
Come meet a living legend in the investment community. Minervini will sign his best-selling tome Trade Like a Stock Market Wizard. You will have the opportunity to talk stocks and ask Minervini questions one-on-one.
For those who buy a copy of Trade Like A Stock Market Wizard, Barnes & Noble will be giving away a free copies of Minervini's most recent book Momentum Masters.
Minervni Blog:
http://goo.gl/CgTK1d
Barnes & Noble site:
https://goo.gl/wId9Bl