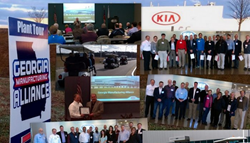 Our people are the heart and soul of KIA and they are what sets us apart...
Atlanta Georgia (PRWEB) February 29, 2016
The "KIA Way" got up-close and personal for the three tour groups from the Georgia Manufacturing Alliance. The guests were warmly greeted and fed well at the beautiful KIA Georgia Training Center where Chief Administrative Officer, Randy Jackson, spent over an hour sharing some history, strategies, and philosophy of Kia Motors Manufacturing Georgia, Inc. While their achievement of building KMMG in West Point, GA is impressive, their focus on the "heart and soul" of the operation sets them apart. The KIA team members are valued, safety and job security are paramount, and the Troup County community is flourishing.
By setting standards and aligning goals, management and team members move in the same direction. Randy promotes team engagement and rewards profitably. He says that an emphasis on clear directives and two-way communication builds relationships, fosters trust, and improves team work.
This facility totals 2.2 million square feet, with four main areas for stamping, welding, painting, and assembly. The plant is air-conditioned, clean, and has generous amenities, such as 24/7 food service, medical care, a fitness center, and a basketball court. Protection is provided by its own security force and fire department. In this harmonious environment, KMMG runs three shifts, turning over inventory every four hours. At capacity they can build 360,000 vehicles a year.
About the Georgia Manufacturing Alliance
The Georgia Manufacturing Alliance is a professional organization founded in 2008 to support Georgia's manufacturing community. GMA provides monthly plant tours, educational sessions and unique networking opportunities designed to help make profitable business connections for its members. To learn more about the organization, visit http://www.GeorgiaManufacturingAlliance.com