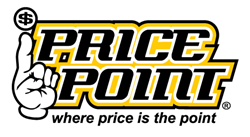 " Ultimately what Price Point's goal is to look for a way to offer exactly what the customers are asking for."
Rancho Dominguez, CA (PRWEB) March 01, 2016
Price Point announces free shipping with the lowest minimums in the industry. Price Point is continuing a market test concerning the viability of free shipping. In January Price Point offered no cost shipping with no minimums. In many cases oversize charges were also covered at no charge. Price Point has compared shipping policies with all industry competitors and found that a $29 minimum threshold is by far the lowest around.
The initial phase of the test turned up many useful and interesting stats. Price Point found that overall sales volume increased as did total revenue. It was discovered that without a minimum purchase requirement that customers tended to order single small value items. At times the same customer ordered multiple times in one day. The thought is that a minimum threshold for no cost shipping will curtail this practice. Price Point also found that overall customer satisfaction also increased with no cost shipping. The most important thing discovered was that profitability was able to be sustained during the test. Marketing Director Rebecca Pisicoli said "People love free shipping but if Price Point can't maintain profitability with this shipping model, it is a no go."
"Early indications seem to suggest that won't be a problem" she added.
Stage two of the no cost shipping test will begin Tuesday, March 1st, and continue until further data on the market test is collected. Logistics Director Jose Sotelo stated "Customer will need to bundle those orders. If this is going to work, the multiple orders in one day for a single customer can hurt the viability of this offer long term. Ultimately what Price Point's goal is to look for a way to offer exactly what the customers are asking for." To view Price Point's shipping policies or view the entire catalog please visit http://www.pricepoint.com.