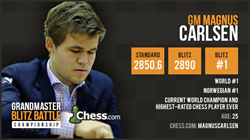 "I am excited to play in this event and prove I am the best online player ever," said Nakamura. "Chess.com is my home turf."
Palo Alto, Calif. (PRWEB) March 08, 2016
The current world chess champion, Magnus Carlsen, will join seven other top chess masters in the strongest and richest tournament ever held on the Internet.
The 2016 Chess.com Grandmaster Blitz Battle Championship is a bracket-style competition with seven online matches starting in April and culminating with the final in December. The total prize pool is $40,000.
Each round, two of the best chess players in the world will play three hours of blitz and bullet chess in a knockout match, with the winner advancing to the next round.
The tournament bracket includes the world's top four blitz players and the top two American grandmasters:
1. Magnus Carlsen (Norway)
2. Hikaru Nakamura (USA)
3. Maxime Vachier-Lagrave (France)
4. Alexander Grischuk (Russia)
5. Levon Aronian (Armenia)
6. Fabiano Caruana (USA)
7. Pentala Harikrishna (India)
8. Winner of a $5,000 Chess.com qualifier tournament open to international masters and grandmasters.
First round schedule:
Grischuk vs Aronian — April 6
Nakamura vs Harikrishna — May 4
Vachier-Lagrave vs Caruana — May 2016
Qualifying tournament — May 31
Carlsen vs qualifier — June 2016
All matches are scheduled for 10 a.m. Pacific time.
Chess.com will broadcast all seven matches and the qualifying tournament live with grandmaster commentary on Chess.com/TV and Twitch.tv/chess.
"This is a historic event for millions of chess fans eager to see the world's best players go head-to-head in online blitz and bullet," said Chess.com CEO Erik Allebest. "This is the event that chess players have been waiting for since the advent of Internet chess."
Though Carlsen is the highest-rated blitz chess player in the world, he may not be the favorite in this event. Hikaru Nakamura, the American grandmaster, has more online chess experience and was recently voted the best blitz player of all time in a survey of chess masters.
"I am excited to play in this event and prove I am the best online player ever," said Nakamura. "Chess.com is my home turf."
The top-rated American player, Fabiano Caruana, is also eager to play in this new format.
"In today's chess, with so many great players online all the time, blitz can be just as intense and challenging as major events," said Caruana.
Each match will also include three games of chess960, a form of chess with randomly determined starting positions invented by the former world champion Bobby Fischer.
Chess.com cited the modern nature of the event as a big draw to the world's top chess players.
"For the first time in the history of chess, we believe the time is right to give the world's best players what they deserve: a chance to make good money and grow their fanbase without having to travel all across the globe," said IM Daniel Rensch, vice president of content and professional relations for Chess.com.
A high-resolution image of the full bracket is available for use:
For more information, prizes, artwork, and player profiles, please visit:
— https://goo.gl/hFeQQk
— https://goo.gl/DGkYiS
All artwork and player profiles are available for use in your publication.
Chess.com is the world's largest chess website, with 14 million members who have played more than 1.2 billion chess games.
Contact:
International Master Daniel Rensch
Vice President of Content and Professional Relations, Chess.com
e-mail: Danny(at)Chess(dot)com
Phone: (602) 618-2045
###