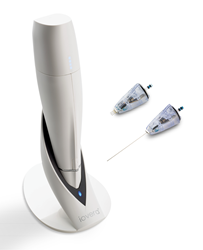 "Opioid abuse is becoming a larger problem in our society, and it may be beneficial to add non-narcotic pain therapies such as iovera° to reduce pain in our total knee replacement patients." - Dr. Antonia Chen, Rothman Institute
FREMONT, CA (PRWEB) March 01, 2016
California-based Myoscience, Inc., announces the completion of patient enrollment in two prospective, randomized, placebo controlled studies focused on relieving knee pain. Both studies measure the effect of using the proprietary, FDA cleared, iovera° treatment to freeze the peripheral nerves which transmit pain in the knee. The iovera° treatment provides an immediate nerve block that is a non-systemic, non-narcotic solution to blocking pain for an extended period of time. The iovera° treatment has been commercially available in the United States since March 2014.
The MYO-1070 study evaluates post-surgical pain management for patients treated prior to undergoing a total knee replacement; 150 patients were enrolled, the enrollment target was reached six weeks early. The primary endpoint is cumulative opioid consumption at 6 weeks post-TKA surgery, comparing the iovera° treatment group and the control group. The MYO-0946 study evaluates iovera° as a temporary nerve block for patients with chronic knee pain due to osteoarthritis; 180 patients were enrolled. The primary endpoint hypothesis of the study is that the change in score after 30 days under iovera° is superior to that of control. Both studies will be critical at establishing the iovera° treatment as a non-systemic alternative for effective pain therapy. Results of the studies will be available later this year.
Dr. Antonia Chen, orthopedic surgeon at the Rothman Institute in Philadelphia, Pennsylvania is an Investigator in MYO-1070. She sees the potential for therapies like the iovera° treatment - "Opioid abuse is becoming a larger problem in our society, and it may be beneficial to add non-narcotic pain therapies such as iovera° to reduce pain in our total knee replacement patients."
Dr. Richard Berkowitz, orthopedic surgeon at the Phoenix Clinical Research Institute in Tamarac, Florida is also an Investigator in MYO-1070. He feels it's a good fit for many orthopedic practices - "The duration of effect of the iovera° treatment will make it a useful adjunct for surgical applications especially knee replacement surgery. Our staff have become experts on performing the treatment and it is a fast, safe and simple treatment to do in an office or hospital setting."
The iovera° system is comprised of a handheld unit, charging dock and disposable Smart Tips, which deliver Myoscience's patented Focused Cold Therapy® technology to treat peripheral nerves to block pain. Using the body's natural response to cold, the iovera° system can immediately relieve peripheral nerve pain – without the use of drugs or other systemic therapies.
Myoscience is expanding their commercial efforts by building an orthopedic distribution network in the United States and is exhibiting at the upcoming American Academy of Orthopaedic Surgeons annual conference in Orlando, Florida from March 2-4 (booth 3518).
Additional information on clinical studies for the iovera° treatment can be found on http://www.clinicaltrials.gov.
ABOUT MYOSCIENCE
California-based Myoscience is a privately-held medical device company committed to making its platform technology, Focused Cold Therapy, the standard of care for the treatment of peripheral nerve conditions. Focused Cold Therapy is the patented technology delivered by the ioveraº system. The ioveraº system is cleared in the US for the blocking of pain. For more information, please visit http://www.myoscience.com, or http://www.iovera.com.
© 2016 Myoscience. All rights reserved. iovera° and Focused Cold Therapy are trademarks of Myoscience. MKT-0398 REV A