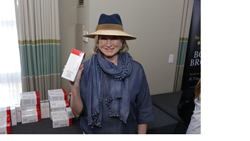 Miami, FL (PRWEB) March 01, 2016
GBK, the luxury lifestyle gift lounge and special events company, partnered with Food Network & Cooking Channel South Beach Wine & Food Festival presented by FOOD & WINE to host this special Thank You Lounge to celebrate this national, star-studded, four-day destination event that showcases the talents of the world's most renowned wine and spirits producers, chefs and culinary personalities.
Luxury sponsors that participated in the Thank You Lounge include: LifeCell - an all-in-one anti-aging treatment formulated to target every aspect of aging skin; Au Bon Broth - Premium grassfed organic bone broth and dehydrated bone broth pills; Blondie's Cookies – who gifted a gift box of their famous Sprinkle Cookies, Brownies, and Bars, plus a 3 month Cookie of the Month Club gift certificate; WineO Custom Wine Stoppers; Jolly Green Products – who gifted their Ekogrips, silicone heat-resistant BBQ and cooking gloves, Ekoclaws - BPA-free meat shredding and handling claws and Grate Boss, an industrial strength BBQ brush.
Also on site for the event was: Malfatti Glass, gifting the choice of a pair of Prosecco or Vino Rosso glasses; Oliver Farm Artisan Oils - Cold pressed, unrefined, non-GMO Peanut, Pecan, and Sunflower culinary oils; The Science of Eating - Weight loss, health, wellness, fitness, recipe & healthy lifestyle website; The Well Groomed Gentleman – a mens upscale barber shop and spa on Miracle Mile, offering everything from haircuts, hot lather shaves, manicures, pedicures, massages to waxing and facials; Haute Brush - a hair straightener that combines your traditional flat iron & brush, into one convenient ultimate beauty tool; and Say YES to Hope - YES provides information, resources and support to those affected by liver tumors from advanced cancer. YES also partnered with The Mountain in Canton, Texas to gift 3 day 2 night vacation packages.
# # #
ABOUT GBK:
GBK, formerly GBK Productions, is a luxury lifestyle gifting and special events company, specializing in entertainment marketing integration. Formed in 2000 by Gavin Keilly, the company's Founder and CEO, GBK consists of five divisions: GBK Celebrity Gifting, GBK Special Events, GBK Weddings, GBK Charitable Consulting and GBK Marketing/Public Relations. Widely known in the entertainment industry for bringing that little extra something into the Gifting Lounge environment, GBK offers its clients a full range of marketing services. For more information on Gavin B. Keilly (CEO), Carla Domen (VP) or GBK, please go to gbkproductions.com.
For more information about the Festival, visit http://www.sobefest.com