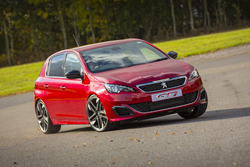 Peugeot Sport will be displaying its 308 GTi by Peugeot Sport, 208 GTi by Peugeot Sport and Peugeot 308 R Hybrid concept, alongside the stylish and sporty Peugeot 108 Roland Garros
(PRWEB UK) 3 March 2016
Peugeot is preparing to wow the international automotive industry and public alike with an array of new production and concept cars at the Geneva Motor Show 2016.
Heading to Switzerland in March will be the latest production line innovations from the European manufacturer, including the New Peugeot 2008 SUV, the ultra-spacious Peugeot Traveller combispace, and the high-tech Peugeot Traveller i-Lab concept – taking business travel to the next level. All three cars will be on display at the Peugeot stand in Hall 6 of the Palexpo convention centre in Geneva, Switzerland.
Peugeot will also give visitors the chance to get up close to the Peugeot 2008 DKR – the car driven by the Stéphane Peterhansel and Jean-Paul Cottret team – winner of the 2016 Dakar Rally*. Viewing the Peugeot 208 DKR at the show will enable car enthusiasts to better understand how this low-profile vehicle battled thorough sand dunes and tackled the many tracks of the Dakar Rally to reach the finish line in record time.
Carrying on with the sporting theme, Peugeot Sport will be displaying its 308 GTi by Peugeot Sport, 208 GTi by Peugeot Sport and Peugeot 308 R Hybrid concept, alongside the stylish and sporty Peugeot 108 Roland Garros. The Roland Garros vehicle will be accompanied by Belinda Bencic, the Swiss women's tennis player and Peugeot ambassador.
Visitors to the Geneva Motor Show 2016 will also get a glimpse of the future of motoring, with the Peugeot FRACTAL electric urban coupe concept car and the Peugeot i-Cockpit, which helps deliver a more instinctive driving experience.
The Geneva Motor Show takes place annually at the Geneva Palexpo. Organised by the Organisation Internationale des Constructuers d'Automobiles, the event is widely regarded as one of the most important car shows in the world. This year's event takes place from Thursday 3rd March to Sunday 13th March.
To find out more about Peugeot's stand at the Geneva Motor Show 2016, visit: http://www.peugeot.co.uk/geneva-motor-show
*Subject to appeal
ENDS
Notes to editors:
About Peugeot
Peugeot has designed and manufactured production cars and concept models for 125 years. Its cars are driven in 160 countries. The French manufacturer's latest range of production models includes the New Peugeot 2008, New 308 GTi by Peugeot Sport and the 108New 208.
About Geneva Motor Show
The Geneva Motor Show has firmly established itself as one of the automotive industry's most prestigious events. Car manufacturers gather to display their latest models, future car concepts, and innovative new technology. The International Geneva Motor Show 2016 will be the event's 86th edition.