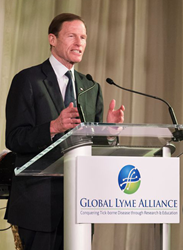 The Gala celebrates efforts of incredible individuals in the Lyme disease field.
GREENWICH, Connecticut (PRWEB) March 01, 2016
Thousands in the Lyme disease community hail U.S. Senator Richard Blumenthal (D-CT) as a pioneer for the cause, who has worked for nearly 20 years with Global Lyme Alliance. Some of the highlights of his advocacy work:

Ten years ago, as Attorney General, Blumenthal launched an investigation into guidelines for treating Lyme developed by the Infectious Diseases Society of America (IDSA). The guidelines, which advised against antibiotic treatments beyond four weeks, favored insurers by restricting coverage for long-term treatment.
Then, five years ago, Blumenthal announced he would introduce a bill in the U.S. Senate aimed at promoting better diagnosis, reporting and research on Lyme disease. Since then he has been unrelenting in his determination to increase public awareness and strengthen efforts to combat tick-borne diseases.
Last summer, in his latest push for passage of Lyme legislation, he introduced S.1503, "The Lyme and Tick-Borne Disease Prevention, Education and Research Act" which calls on HHS to develop better tools for diagnosing and reporting the illness, treatment and the exploration of vaccines. He hopes the bill will pass during this legislative session. 
This week, Blumenthal turned the spotlight on someone he described as a "true pioneer in the study of chronic Lyme disease" and he should know. He saluted Dr. Brian Fallon, director of the Lyme and Tick-Borne Disease Research Center at Columbia University Medical Center, who will be honored with the Lauren F. Brooks Hope Award at Global Lyme Alliance's (GLA) "Time for Lyme" Gala, April 2, in Old Greenwich, Connecticut. 
"It's an honor to be part of this year's Gala to celebrate efforts of incredible individuals in the field—especially Dr. Brian Fallon," the Senator said. Blumenthal, who has worked closely with Global Lyme Alliance over the years, added: "I look forward to continuing my partnership with the Global Lyme Alliance in the fight to eradicate this pernicious public health threat."
Said GLA Vice Chair Diane Blanchard, who has worked with Dr. Fallon for nearly two decades: "We proudly honor Dr. Fallon who is recognized internationally for his research on neuropsychiatric aspects of Lyme and tick-borne diseases. He accomplished a lot of his work when Lyme disease research was not popular and was even risky for one's career."
"We also thank Senator Blumenthal for being there in the early years when Global Lyme Alliance was but a dream toward which we were striving," Blanchard said. "I still remember when the Senator first announced plans for his Lyme disease bill. I'm proud to say that his commitment to improving the lives of Lyme disease patients and being a friend to GLA has never wavered."
The "Time for Lyme" Gala is a major fundraising event for Global Lyme Alliance, a leading Lyme and tick-borne disease nonprofit. The gala will be held Saturday, April 2, 2016 from 6:30 p.m. to midnight at the Hyatt Regency Greenwich in Old Greenwich, CT. It features a cocktail reception, dinner, dancing, and both silent and live auctions. For more information, or to purchase tables or tickets, please visit GlobalLymeAlliance.org or call 203-969-1333.  
ABOUT GLOBAL LYME ALLIANCE
Global Lyme Alliance funds cutting-edge research at leading U.S. universities for the purpose of developing reliable diagnostic tools, effective treatments and ultimately curing Lyme disease, while building greater public awareness for disease detection and prevention. A 503 (c)(3), GLA is headquartered in Greenwich, CT. For more information please visit GlobalLymeAlliance.org or call 203-969-1333.