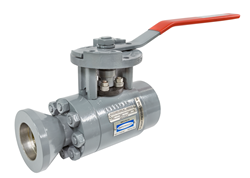 Houston, TX (PRWEB) March 02, 2016
ValvTechnologies announced today the launch of a Quick-Ship program in partnership with Portersville PRD and Celtex Industries.
Need a valve today? With ValvTechnologies' Quick-Ship program customers can get the original, industry-leading zero-leakage metal seated ball valve shipped to them in as little as 24 hours.
ValvTechnologies is proud to announce a North American satellite operations agreement with Portersville PRD and Celtex Industries to provide quick-shipped stock V1-1 valves when customer delivery requirements fall outside ValvTechnologies' standard delivery times. The Quick-Ship program provides the distribution network with the opportunity to order and take delivery of the best severe service metal seated isolation valves in the industry in as little as 24 hours, guaranteeing our customers can get their critical valves when they need them.
Benefits of this program include:
Industry's Fastest Turnaround:
ValvTechnologies' superior V Series zero-leakage metal seated ball valves are stocked and ready to ship within 24-48 hours.

Readily available stock: on the shelf and available for the whole of Northern America and Canada
Shorter lead times: 24-48 hours standard Quick-Ship lead time
100% Factory Assembled and Tested:
ValvTechnologies' valves are assembled, inspected and tested before shipment to ensure zero-leakage, which means customers receive the most reliable solution the market has to offer.

Increased reliability
Increased safety
Total traceability
End Prep, Installation and Commissioning:
ValvTechnologies' satellite operations Portersville PRD and Celtex Industries stock and quick-ship V Series valves to ValvTechnologies' North American distribution network with 24-48 hours.

Portersville PRD and Celtex Industries can fully end prep and retest valves to factory specifications prior to shipping
Portersville PRD and Celtex can oversee installation and commissioning of valves to ensure they remain compliant to warranty conditions
Four-Year Warranty:
The very best warranty in the industry. ValvTechnologies' four-year warranty* guarantees the product will be free of defects in material and workmanship, under normal use and proper operation, for a period of four years from date of shipment from seller's plant. (*steam and water applications.)

Lower cost-of-ownership
Increased reliability
Made in the USA:
The finest metal seated valves in the world are engineered and manufactured right here in the Unites States. We're proud of our product quality, and even more proud that we craft all our products in Houston, Texas.

Increased reliability
Increased safety
Guaranteed quality