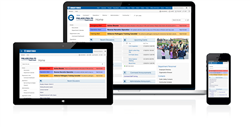 Adventos sponsors Colorado Association of Chiefs of Police leadership meeting.
Greenwood Village, Colorado (PRWEB) March 03, 2016
The Colorado Association of Chiefs of Police convened in Evans, Colorado for their mid-year meeting to discuss the impacts of state legislation, current events, officer safety, and policing issues around the state. Chiefs were also exposed to current leadership presentations and case studies related to today's needs in public safety that may help their officers perform their jobs better. The conference was a great opportunity for Colorado police chiefs to come together, learn from one another, and share concerns that impact law enforcement in the state.
Adventos™ was pleased to be a sponsor of such an important group of Public Safety leaders. CEO and founder of Adventos™, Mariano Delle Donne, commented that "All of us at Adventos are very grateful to support and sponsor the Colorado Association of Chiefs of Police and look forward to helping them and their individual organizations operate more efficiently and connect them to the communities they serve for the overall safety of the Colorado public at large."
Interested parties can learn more about the SmartForce™ Agency Management System and how it improves intelligence and community collaboration as well as police processes at http://www.adventos.com/demo.html.