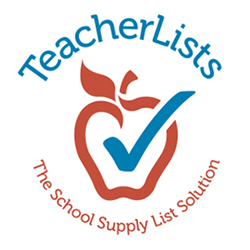 When kids have the proper school supplies, we see their confidence soar
Wrentham, MA (PRWEB) March 31, 2016
TeacherLists, the smarter way to manage, share and find school supply lists, today announced their partnership with The Kids In Need Foundation to further connect TeacherLists with the cause of making sure all students have the supplies they need for a great school year. This year, each time a school gets fully active with the TeacherLists solution – posting school supply lists, identifying the products and brands that parents need to find for their students and sharing lists with parents and families -- TeacherLists will make a $1 donation to The Kids In Need Foundation to help provide essential school supplies for needy school kids.
At its core TeacherLists is about making back-to-school simpler and more efficient and effective for schools and parents. Parents have always had to find school supply lists and go shopping for back-to-school supplies, and – since 2012 – TeacherLists has been making that process easier for tens of thousands of schools and millions of parents.
But for some parents and schools, back-to-school is an even bigger challenge – parents sometimes can not afford even the most basic supplies. And that's where the TeacherLists and Kids In Need Foundation partnership comes in.
"TeacherLists is all about school supplies and making sure kids have the supplies they need for a great school year," said TeacherLists founder, Tim Sullivan. "And the Kids In Need Foundation focuses on the same issue, especially for less fortunate students and schools. We are ecstatic about this opportunity to amplify our impact: helping make sure even more students have a great school year."
The Kids In Need Foundation is a national non-profit organization with the mission of ensuring that every child is prepared to learn and succeed by providing free school supplies nationally to students most in need. The Kids In Need Foundation has distributed nearly $800 million in school supplies, directly benefiting over 4.8 million students and more than 150,000 teachers annually.
"It is hard to learn without the proper tools, and TeacherLists and teachers understand that not every student is able to afford to purchase the supplies they need," said Dave Smith, Executive Director, The Kids In Need Foundation. "When kids have the proper school supplies, we see their confidence soar. We know that with these supplies, students' classroom behavior improves and grades go up, because kids feel they have a better chance of achieving in the classroom. We want to thank TeacherLists for helping more children achieve, succeed, and believe in a bright future."
About TeacherLists.com
TeacherLists is the smarter way to manage, find and share school supply lists for schools and parents. Launched in 2012, TeacherLists is currently used at over 40,000 schools and in more than 775,000 classrooms across the nation. After a school's lists are updated once, that school's parents can then find those lists exactly where and when they need them, whether on the school website, the TeacherLists site, via their smart phones or even directly on the sites of key retailers. TeacherLists provides parents the freedom of accessing and finding the most updated school supply lists, twenty four-seven. For more information about TeacherLists, visit http://www.teacherlists.com.
About The Kids In Need Foundation
The Kids In Need Foundation's mission is to ensure that every child is prepared to learn and succeed by providing free school supplies nationally to students most in need. The Kids In Need Foundation, a national 501(c)(3) charitable organization founded in 1995, has distributed nearly $800 million in school supplies, directly benefiting 4.8 million students and more than 150,000 teachers annually. For more information, visit KINF.org, and join us on Facebook, Twitter, and Instagram: @KidsInNeed