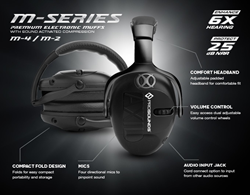 This encore campaign is another opportunity for consumers to obtain high-quality ProSounds products at reduced prices
Draper, Utah (PRWEB) March 01, 2016
ProSounds® continues its mission to bring the most advanced hearing protection and enhancement devices to the civilian, industrial, shooting and military/police sectors with the launch of the M-Series Electronic Muffs crowdfunding campaign. Consumers can receive the M-Series muffs at early bird discounted prices on Kickstarter.
Supporters who back the campaign will have the choice of a multitude of purchasing options. The discounts increase with the amount of product purchased. Consumers and businesses that take advantage of the larger packages will receive the greatest savings. The Kickstarter campaign runs until April 9, 2016.
"Our first Kickstarter campaign for the X-Pro Earplugs received overwhelming support thanks to demand from a wide range of customers - from professionals who need ear protection on the job, to recreational users like hunters, to everyday people who want sound enhancement and sound protection," said ProSounds President and Founder Weston Harris. "This encore campaign is another opportunity for consumers to obtain high-quality ProSounds products at reduced prices."
The M-Series Electronic Muffs are based on a classic design but with a tapered body and improved protection and enhancement features. The designs feature dual, recessed volume knobs with gripping ridges for easy adjustment and independent customization of each ear. An adjustable, padded headband and soft ear cups provide all-day comfort. The external, easy-access battery compartment allows for quick battery changes.
The muffs provide up to six times normal hearing levels with recessed, directional mics. The muffs' digital compressor automatically blocks out sounds over 85 decibels, delivering 25 decibels of noise reduction.
The M-Series Electronic Muffs are great options for anyone who needs quality hearing protection and enhancement. With damage to hearing beginning at 85 decibels, 140 million Americans put their hearing at risk while at work, shooting ranges, hunting trips, sporting events and more. Designed with a comfortable fit and featuring high-quality digital compression, anyone who experiences loud noises can benefit from the M-Series Electronic Muffs.
ProSounds is the industry leader of hearing enhancement and protection technology, and has been helping people around the world improve and protect their hearing for over 57 years. To learn more about the ProSounds M-Series Electronic Muffs and to take advantage of early bird specials, please ProSounds on Kickstarter.