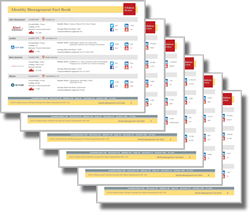 With the Identity and Access Management Fact Book, we are happy to introduce another buyer's resource to simplify the vendor selection process
Woburn, MA (PRWEB) March 02, 2016
Solutions Review, the leading online resource for Enterprise Information Technology news and best practices, announces today the release of their latest buyer's resource: The 2016 Identity and Access Management Fact Book.
Developed by Jeff Edwards, Solutions Review Cyber Security Editor, the report provides visual data on the top 28 Identity and Access Management solution provider's maturity, longevity, business models, size, geographic reach, workforce, user base, notable clients, and financials. All of these facts are gathered together for each solution provider in order to give prospective buyers of enterprise IAM solutions a better understanding of the makeup and structure of potential technology partners.
The 2016 IAM Fact Book is now coupled with the all new 2016 Identity and Access Management Buyers Guide, providing two useful buying resources for IT professionals. The 2016 IAM Buyer's Guide Report offers ten questions to ask both yourself and prospective solution providers before a purchase as well as detailed profiles of the top 28 IAM products (the most ever included in our IAM guide) as selected by Solutions Review. Each profile provides a company and solution backgrounds, highlights solution key features, and gives the Solutions Review's take on each solution.
Along with the general news, technology updates and best practices coverage found on the website, Solutions Review is helping visitors make the most informed decisions around the leading IAM solutions now more than ever.
IAM vendors covered in the 2016 IAM Fact Book include: Alert Enterprise!, Avatier, Beta Systems, Bitium, CA Technologies, Centrify, Courion, Covisint, Dell, Fischer International, ForgeRock, Hitachi ID, IBM, Ilantus, iWelcome, Microsoft Azure AD, NetIQ, Okta, Omada, OneLogin, Oracle, Ping Identity, RSA, Sailpoint, Salesforce Identity, SAP, Simeio, and UnboundID.
"There is no such thing as one-size fits all when it comes to identity management," says Jeff Edwards. "Solutions come in a variety of flavors – IAM, Identity Governance and Administration, Privileged Identity Management, Consumer Identity and Access Management, Identity as a Service– each with a specific set of capabilities, strengths and draw backs. Choosing the right solution and vendor for you is a complicated process." The 2016 IAM Fact Book was developed to help simplify that process by presenting clear and easy to digest profiles around solution capabilities, organizational structure and company size.
About SolutionsReview.com
Solutions Review is a collection of online news sites bringing the latest technology news, opinions, social media, best practices and industry events together in one place for our readers. With a strong focus in the Enterprise Mobility, Big Data, Data Analysis, Identity Management, the Cloud, Data and Cyber Security. Solutions Review is managed by a team of content experts and features original insights along with a thoughtful aggregation of industry best practices and solution news. Solutions Review allows seekers of technology solutions to make thoughtful and informed decisions.
Contact:
Matt Adamson
339-927-9237
madamson(at)solutions-review(dot)com