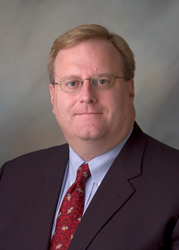 The legal marketplace is changing, and as a firm, we are well-positioned for continued evolution and success thanks in large part to the dedication of my partner, David Freinberg, who has led us since 2011
Richmond, VA (PRWEB) March 02, 2016
National law firm LeClairRyan today announced that Litigation Department Leader C. Erik Gustafson has been elevated to Chief Executive Officer, effective March 1.
"Erik is a strong, firm-first leader who is passionate about the success of our clients, our business and our people," says George P. Whitley, Lead Director of LeClairRyan's Board. "LeClairRyan is a firm with ambitious goals. I am confident that with Erik's significant leadership experience and selfless attitude at the helm, our best days are ahead of us."
In his role as CEO, Gustafson will be responsible for the management of the firm on a day-to-day basis and will lead the execution of the firm's strategic initiatives. "LeClairRyan is a fast-growing, forward-thinking firm comprised of talented and dedicated professionals at all levels," says Gustafson. "The legal marketplace is changing, and as a firm, we are well-positioned for continued evolution and success thanks in large part to the dedication of my partner, David Freinberg, who has led us since 2011. I am fortunate to have been chosen to lead the firm in its next chapter and am looking forward to executing on the opportunities ahead."
While serving as LeClairRyan's Litigation Department Leader over the past four years, Gustafson managed growth opportunities and client service initiatives, while overseeing the practice area, industry and client teams within the more than 300-lawyer department. Prior to his tenure as Litigation Department Leader, Gustafson was the firm's Alexandria, Va. Officer Leader, and he chaired or served on numerous committees and task forces within the firm.
In addition to holding a number of management positions within the firm, Gustafson led the USLAW Network, an organization of more than 70 law firm members, and served as president of the Arlington County Bar Association, one of the largest local bar associations in Virginia.
With this transition, outgoing CEO David Freinberg will continue to serve on LeClairRyan's leadership team and as a member of the firm's Board of Directors. Additionally, he will again focus his efforts on his business transactional practice, including counseling clients on general business matters such as entity formation, business acquisitions and sales and financing transactions and representing real estate investors, lenders, developers, landlords and tenants throughout the United States. During Freinberg's tenure, the firm has grown to nearly 400 attorneys and is now a full-service commercial firm with 25 offices stretching from Boston to Atlanta on the East Coast, Detroit to Houston in mid-America, and Los Angeles to Sacramento on the West Coast.
About LeClairRyan
As a trusted advisor, LeClairRyan provides business counsel and client representation in corporate law and litigation. In this role, the firm applies its knowledge, insight and skill to help clients achieve their business objectives while managing and minimizing their legal risks, difficulties and expenses. With offices in California, Connecticut, Delaware, Georgia, Maryland, Massachusetts, Michigan, Nevada, New Jersey, New York, Pennsylvania, Texas, Virginia and Washington, D.C., the firm has approximately 390 attorneys representing a wide variety of clients throughout the nation. For more information about LeClairRyan, visit http://www.leclairryan.com.