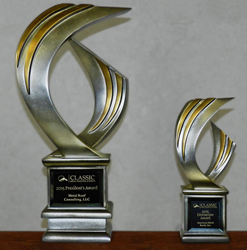 I am proud to bring these awards home to Michigan where every one of our employees has worked hard throughout the year, helping our company prosper." -Frank Farmer, President American Metal Roofs
Piqua, OH (PRWEB) March 02, 2016
American Metal Roofs (AMR) once again was recognized in the metal roofing industry for exceptional sales last week at Isaiah Industries Annual Dealer Meeting, held in Piqua, OH.
In addition to receiving the "Distinction Award" for sales, AMR was also presented with a "President's Award" for being the "Top Active Trainer" in the industry.
Frank Farmer, CEO of American Metal Roofs (AMR) accepted both prestigious awards on behalf of his employees. AMR was awarded the Distinction Award which was the highest honor awarded for 2015 sales volume in the country. Farmer also won the President's Award which recognizes AMR's role in providing sales training and marketing support to Classic Dealers throughout the country.
"I am proud to bring these awards home to Michigan where every one of our employees has worked hard throughout the year, helping our company prosper." -Frank Farmer, President American Metal Roofs
About Isaiah Industries, Inc.:
A privately-held Ohio-based corporation with its roots in the building products industries. We are committed to building a family of companies and brands that brings value and relationship to our customers and that supports and furthers our stance as a Kingdom Business.
About American Metal Roofs:
American Metal Roofs provides residential and commercial metal roofing products and services for the Michigan Lower Peninsula. American Metal Roofs specializes in installing metal roofing from the leading manufacturers of permanent metal roofing.