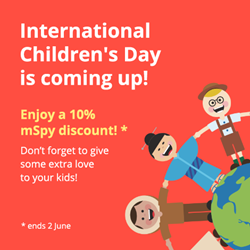 (PRWEB) June 01, 2016
mSpy, an international brand that secures children and provides the highest level of monitoring comfort, joins the celebration of International Children's Day to help parents keep their kids safer online.
Children's Day is recognized on various days in many places around the world to honor children globally. It was first proclaimed by the World Conference for the Well-being of Children in 1925 and then established universally in 1954 to protect an "appropriate" day. The International Day for Protection of Children is observed in many countries as Children's Day on June 1 since 1950. It was established by the Women's International Democratic Federation.
mSpy now is one of the key instruments to safeguard modern children online. It is one of the best ways nowadays to really acknowledge any child's interests and concerns. With the GPS tracking, parents can know if their children are in the wrong or dangerous neighborhood; with the messaging records, including texts, emails and most messengers - the cyber-bullying problem can be prevented. With the web browsing history reports, concerned parents can make sure that children are not spending time on pornography or gambling websites.
mSpy features also include Tinder monitoring as well as monitoring of Telegram messenger and Google Hangouts Communicating Platform.
Support International Children's Day, install mSpy with a special 10 percent discount and give your children extra protection online.
ABOUT MSPY
mSpy specializes in customized and user-friendly mobile & computer monitoring solutions, by utilizing the latest innovations in monitoring technologies. mSpy goal is to deliver the fastest and most secure solutions that suits most demanding parental and corporate needs and brings guaranteed results at an affordable price.