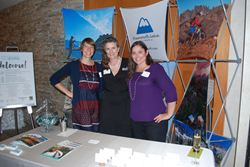 Mammoth Lakes, CA (PRWEB) March 01, 2016
This spring, plan to attend the Mammoth Lakes Event and Wedding Expo occurring Saturday, April 16 from 2-5 p.m. at the Westin Monache Resort in Mammoth Lakes.
Presented by the Mammoth Lakes Chamber of Commerce and the Westin Monache Resort, and Green Fox Events and Guest Services, with support from the Mono County Tourism & Film Commission, the Expo will provide a centralized event where potential clients and local business owners can network and perform both Business-to-Business (B2B) and Business-to-Consumer (B2C) activities. The emphasis will be showcasing all meeting and event- related services available in Mammoth Lakes and surrounding areas.
The Expo is also a must-do if you are interested in learning about Mammoth Lakes as a destination for groups that are looking for unique, customized experiences. The event will consist of more than 30 vendor booths. All guests will be able to interact with the exhibitors and book their services on the spot if they desire.
"This is a remarkable opportunity for our beautiful and diverse destination to familiarize potential visitors, meeting and event planners, wedding couples and the media with all that Mammoth Lakes has to offer in terms of attractions, activities, venues, and services," said Jeff Guillory, Director of Sales and Marketing for the Westin Monache Resort. "It is also an opportunity for our community to come together to learn about all that is new in our town to better sell and promote our destination to visitors and clients."
The Expo will be followed by a Happy Hour Mixer at the Westin Monache Resort from 5-6:30 p.m.
The event is free for guests to attend. Vendors who are members of the Mammoth Lakes Chamber of Commerce will be given a booth for free. Non-Chamber members will be charged $75.
Partners and participants will have the opportunity to invite their potential clients to the Expo.
To learn more about the details related to the event, visit mammothlakesexpo.com.