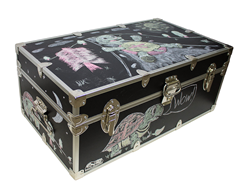 The likes of this trunk have surely never been seen before...
Boyd, WI (PRWEB) March 02, 2016
Some manufacturers stick to the same recipe without questioning the tried and true method. But then there are others who just can't help but break all the rules. Summer camp outfitters like Everything Summer Camp—home of C&N Footlockers are of the latter grouping.
"Chalkboards aren't just for the classroom anymore," says the company writer for Everything Summer Camp, John Sieglaff.
Introducing the only camp trunk that offers a blank canvas on which to create unlimited works of art, the entire Chalkboard Trunk is a cubed chalkboard! This unconventional Camp Trunk is made under the same, rugged construction as all other C&N Camp Trunks, except that they swap out the steel exterior for a durable chalkboard laminate which is similar to chalkboard paint.
Campers can use the 16-piece set of standard chalk that's included in all Chalkboard Camp Trunks to get started on their artistic creations. Chalk markers (not included) work well on these trunks too and will wipe clean just as easily as the standard chalk. A damp cloth gets this trunk right back to a blank canvas.
The interior of these trunks are lined with DuraWrap, a water-resistant, odor-free, and virtually tear-proof paper while the bottom exterior of the trunk is covered with traditional sheet of steel. Sidewalk art just expanded onto this footlocker trunk for more fun at camp. These trunks also work great for playing games or leaving messages for cabin mates. Unafraid of the textbook rules, The Chalkboard Camp Trunk is the only trunk where the artist is YOU!
The likes of this trunk have surely never been seen before—destined to be a giant success at summer camp! So get excited and check out these amazing new Chalkboard Camp Trunks at the Everything Summer Camp website.
About Everything Summer Camp
Everything Summer Camp has been helping kids get ready for summer camp since 1987. Their wide selection of camping gear includes camp trunks and other camping supplies. Top selling items include water bottles, cot-sized bedding, rain jackets, insect repellent, iron on labels, and more. Known for their customer service and fast shipping Everything Summer Camp is recommended by more camps than any other camp outfitter.
Visit http://www.EverythingSummerCamp.com to learn more about camp footlockers, name labels, duffel bags, and camping supplies.