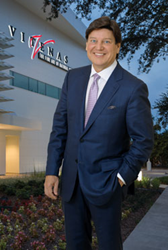 HOUSTON, TX (PRWEB) March 01, 2016
Vitenas Cosmetic Surgery is honored to announce their newest accolade, the Top Choice Award for Best Cosmetic Practice in Houston. This coveted award for exceptional customer service comes directly from the votes of Houston residents.
Top Choice Awards (TCA) is an international market research firm, focusing on the customer experience. Their awards are given out annually to recognize the most appealing service organizations and businesses from across the country. This past year, 26 cities participated in the process.
The 12 month long nomination process for the TCA awards is unique, as all voting is done by the public. "Every nominee in every category of each city is chosen by local people," explained the President of TCA, Monica Couta. In 2016, more than 880,000 votes were cast by participants from across the country. There were more than 3,000 nominees in this year's competition.
Receiving the Top Choice Award would not be possible without 1000's of satisfied patients. Paul Vitenas, MD, FACS, founder of Vitenas Cosmetic Surgery, knows his nomination rests on a continual focus on patient interaction and personalized results. "If I had to describe my practice in one word, I would tell you that word is natural," explains Dr. Vitenas. This commitment to organic looking results is one reason there are so many satisfied clients. Vitenas Cosmetic Surgery thanks the clients that took the time to vote during the Top Choice nomination process.
This year's Top Choice Award is one of many notable titles that Vitenas Cosmetic Surgery has won over the years. Their most recent accolades include Best Single Physician Practice, a Top Ten Plastic surgeon in Middle American, a Top Doctor on RealSelf, multiple Patient Choice Awards, and CMUS Talk of the Town customer Satisfaction Award.
Dr. Vitenas has close to 30 years of experience surgical and noninvasive aesthetic experience. An alumnus of Tulane University School of Medicine, Dr. Vitenas is Board Certified by the American Board of Plastic Surgery. He has one of the largest cosmetic practices in the entire country and a written a book called "Breast Friends- A Guide to Breast Augmentation".
At Vitenas Cosmetic Surgery, new patient consultations are complimentary. To schedule an appointment, contact our Houston, Texas office at 281.484.0088. Virtual consultations can also be arranged, talk to a patient coordinator for more details. Go to the Top Choice Awards Houston for get additional information on the award and nomination process.
Contact:
Vitenas Cosmetic Surgery
4208 Richmond Avenue
Houston, Texas 77027
281.484.0088
http://www.drvitenas.com