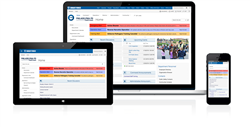 Highly productive partnership yields results in 5 additional U.S. states.
Greenwood Village, Colorado (PRWEB) March 03, 2016
The Optimas' additional investment comes on the heels of a separate funding round late last year, which has formed a highly productive partnership between the two organizations.
While speaking of the partnership, Mariano Delle Donne, CEO of Adventos™ reflected, "Partnering with The Optimas Group has really given us the momentum we needed to expand. Since their last investment, we have added agencies in five states across the country and have made significant advances in the functionality and adoption of the SmartForce™ system."
SmartForce™ offers police and law enforcement officials the most robust CJIS-compliant, mobile management system in existence today. SmartForce™ gives entire agencies custom, real-time views of officer locations, targeted intelligence, photos, missing persons, persons of interest, and other information essential to the modern-day force. In addition, the SmartForce ™ platform offers access to internal communications, documents, and briefings from any device, at any time, by any officer. Built-in collaborative features make it easy for officers across shifts and departments to remain vigilant while serving their communities. SmartForce™ ensures that each force is operating in real-time and offers a compliment to both the RMS and CAD systems.
To learn more about the SmartForce™ Agency Management System and how it improves intelligence, community collaboration, and agency processes, visit us at http://www.adventos.com/demo.html. We invite interested law enforcement officials to request a free trial, and share in our passion for connecting police forces internally and to the communities that they serve.