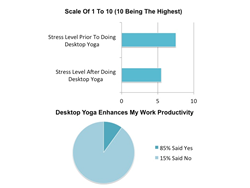 "I am proud to say I was a part of this exciting program. What started as a pilot program has grown into a huge success at Apollo Education Group and I know we will continue to watch its popularity grow as time goes on." ~Michele Flatt
Phoenix, Arizona (PRWEB) March 03, 2016
Yoga history has been made as 844 workers participated in a yoga experiment -- doing yoga at their desk with YMEDICA's REWIND@Work Desktop Yoga. The results were astonishing with 20% stress reduction and 85% increased productivity.
Carrie Hensley, the Executive Director of YMEDICA, Inc., said, "Workers do the yoga in the comfort of their own work space. They simply sign in and they have a choice of dozens of health related yoga videos about 5 minutes in length. People love it. The corporations benefit in many ways as people, unanimously, thought more highly of the sponsoring corporation."
The REWIND library focuses on health: back issues, stress, carpal tunnel syndrome, immune system, anxiety, etc. To request a demo, please email Carrie Hensley at carrie(at)ymedica(dot)com.
YMEDICA, Inc. partnered with The Apollo Education Group to offer its REWIND@Work Desktop Yoga program to 844 employees. Participants were encouraged to participate a minimum of three times per week for 8 weeks.
Michele Flatt, the Senior Director of Enterprise Services, said, "I am proud to say I was a part of this exciting program. What started as a pilot program has grown into a huge success at Apollo Education Group and I know we will continue to watch its popularity grow as time goes on."
The feedback from active participants has been documented and clearly demonstrates positive acceptance of this REWIND@Work Yoga program:
"I LOVE yoga at my desk! Just stretching makes my day better! I find if I REWIND at my desk about the 3:00 o'clock lull, I can get through that hour without a soda or snack. Thank you!!" ~Rhandi E.
"Great tool for coping with a high stress environment." ~Ken C.
"I usually go to the gym three or four times a week and ride the stationary bike for 30 minutes. That isn't even close to what these sessions have done for me. I really look forward to these energy breaks throughout the day." ~Joy V.
To learn more about REWIND@Work or to bring the stress-reducing benefits of Desktop Yoga to your company, please email Carrie Hensley at carrie(at)ymedica(dot)com.