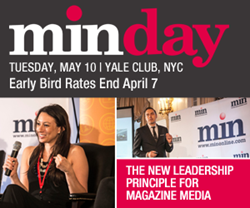 New York, NY (PRWEB) March 01, 2016
min, the industry's trusted source on the consumer and b2b magazine business, will hold its annual min day Summit on May 10 at the Yale Club in New York City. At the event, dozens of the media world's leading innovators will share techniques and tactics for monetizing content, creating community and leveraging brands. Attended by media leaders and their teams—and led by the industry's innovators and thought leaders — min day delivers the most mission-critical trends and best practices. At this full-day event, attendees will tap into trends, while also hearing success stories that they can apply to their own companies.
Attendees will get strategic insights on advertising, social media, audience development, digital innovation, the future of print, mobile, new revenue streams, data marketing and more, gaining insight and inspiration from the smartest media leaders to obtain a competitive advantage in an ever-evolving industry.
Speakers include:

Christian Baesler, President, Bauer Xcel Media
Larry Burstein, Publisher, New York Media
Gavin Dunaway, Senior Editor, AdMonsters
Anthony Licata, Editorial Director, Bonnier New York
Rajiv Mody, Vice President, Social Media, National Geographic
Shenan Reed, President, Digital, MEC Global
Mike Suggett, Vice President, Executive Producer, Original Programming, TEN/MindOverEye
Sessions include:

The New Dynamic: How Publishers and Agencies Can Optimize Their Partnerships
Social Media: The Frontline of Audience Development
Digital Advertising's Biggest Challenges
Your Brand Is Only as Good As Its Experience
Print Versus Digital: Not a Zero-Sum Game
Revenue Beyond Publishing
Hispanic Marketing: What You Need to Know
Building a Loyal Audience With Original Programming
For more information and to register for the min Day Summit, visit http://www.minday2016.com. The early bird rate ends April 7.
Join min on the morning of May 10th, prior to min Day at the Yale Club, for a celebratory breakfast to honor the winners and honorable mentions of min's Best of the Web Awards and Digital Hall of Fame honorees. See the finalists here: http://bow.minonline.com/. Individual tickets and reserved tables of 10 are available for purchase and can be added on to a min day Summit registration.
Contact Rachel Feldman at rfeldman(at)accessintel(dot)com with any questions.
min day Summit is presented by min, the industry's trusted source on the consumer and b2b magazine business. For more than 60 years, min has been serving the magazine and media community with unparalleled coverage of this ever-changing industry. Brands and offerings include min, min's b2b, minonline, the daily Skinny from min (e-letter), the Best of Web Awards, Sales Executive of the Year Awards, 21 Most Intriguing, Editorial & Design Awards, Integrated Marketing Awards, plus much more. Visit us at minonline.com.