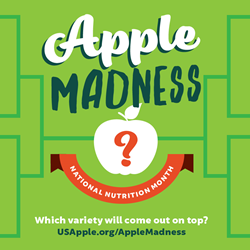 It's National Nutrition Month, so why not celebrate by combining two of our favorite things? Apples and March Madness!
Vienna, VA (PRWEB) March 01, 2016
What are your favorite apples? Tried-and-true champion varieties enjoyed by all, or up-and-coming underdog apples known only by a few? Throughout March (National Nutrition Month), U.S. Apple Association (USApple) is encouraging people to pick their all-time favorite apple by hosting the first-ever "Apple Madness" tournament – a five-week, five-round online competition spotlighting 32 apple varieties and fresh health facts.
Tipping off today, Apple Madness features USApple and apple industry members encouraging people to visit USApple.org/AppleMadness to take part in a bracket-style tournament by voting for their favorite varieties. Among the 32 featured in Apple Madness: Veteran varieties such as Empire, Fuji, Red Delicious, and Granny "Slam Dunk" Smith; rising stars such as "Hoops" Honeycrisp and Pink Lady; and rookies to watch like SweeTango, "Jumpball" Jazz and SnapDragon.
The first-week round — The "Fresh 32"— (Tuesday, March 1 – Sunday, March 6) features all 32 apples seeded in 16 match-ups. People can view and vote on each match-up while learning about healthy apple research. Top apples from week one advance to the "Vitamin-C Sixteen" round, which tips off Monday, March 7. The "Edible Eight" round starts Monday, March 14, with the "Fiber Four" round beginning Monday, March 21. Finally, the "National Chomp-ionship" round to determine the ultimate winner apple variety will be held Monday, March 28 – Thursday, March 31.
Throughout the tournament, participants can enter to win a host of apple-related prizes from USApple members and partners.
"It's National Nutrition Month, so why not celebrate by combining two of our favorite things? Apples and March Madness!" said Wendy Brannen, Director of Consumer Health and Public Relations, USApple. "With Apple Madness, we want to tap into the popularity of the preeminent cultural event that is March Madness to not only encourage people to share their favorite apple varieties, but also learn important health facts about apples along the way. We can't wait to see which apples advance and which variety takes home the trophy."
About USApple
U.S. Apple Association is the national trade association representing all segments of the apple industry. Members include 40 state and regional associations representing the 7,500 apple growers throughout the country, as well as more than 400 individual firms involved in the apple business. More information on the organization is available at USApple.org.
###