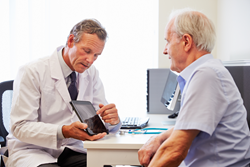 "A colonoscopy is considered the gold standard of colorectal cancer screening." -- Walter Coyle, M.D., Scripps Clinic
San Diego, Calif. (PRWEB) March 02, 2016
March is National Colorectal Cancer Awareness Month, and by age 50, you should have a conversation with your doctor about screening for this disease. Here are four key points to know about one of the deadliest – and most preventable – types of cancer.
1. Colorectal cancer is the third most common cancer in the United States.
This is true for both men and women. Women have a slightly lower risk than men of developing the disease. The American Cancer Society estimates that 95,270 new cases of colon cancer and 39,220 new cases of rectal cancer will be diagnosed in the U.S. this year.
2. Colorectal cancer develops slowly, with few early signs or symptoms.
Colorectal cancer almost always starts with an abnormal growth known as a polyp in the colon or rectum. Not all polyps are malignant, but those that are tend to grow slowly, often taking 10 years to become cancerous. This is why there are generally few symptoms during the early stages of the disease.
3. Screening prevents most colorectal cancer.
Because polyps in the colon or rectum grow so slowly, the goal is to find and remove them before they become cancerous. There are several types of colorectal screening tests. Some only detect potentially cancerous growths, while others detect and remove them.
"A colonoscopy is considered the gold standard of colorectal cancer screening," said Walter Coyle, M.D., head of gastroenterology at Scripps Clinic. The procedure is performed while you are sedated, so you do not feel or see anything. The doctor inserts a flexible tube with a small camera into the rectum to examine the entire length of the colon. If precancerous polyps are found, they often can be removed during the procedure.
For most people, colonoscopy screening should be repeated every 10 years.
Flexible sigmoidoscopy is a similar procedure that uses a shorter tube to view only the lower third of the colon. Because the colon needs to be empty for these procedures, you must drink only clear liquids for 24 hours and take a special prescription laxative to clear your colon.
A FIT, or fecal immunochemical test, analyzes a stool sample for signs of blood from cancer. No prep is necessary. However, this test is not as thorough as a colon exam, and if cancer is suspected or the FIT test is positive, a colonoscopy may be needed. Usually the FIT test is performed every year.
Stool DNA testing has received a lot of media coverage recently. This test is better than the FIT for detecting colon cancer and some large polyps and does not require prep. But it is expensive and is falsely positive about 10 percent of the time.
4. Everyone should be screened by age 50 – or earlier.
An initial colonoscopy screening is recommended for everyone at age 50. About nine out of 10 people diagnosed with colorectal cancer are at least 50 years old. If you have a family history of colorectal cancer or risk factors such as inflammatory bowel disease, your doctor may recommend having your first screening at a younger age.
For African-Americans, there is about a 20 percent higher risk for colorectal cancer. The American College of Gastroenterology (ACG) recommends a first screening at age 45 for this population.
Cancer care at Scripps
Since 2008, Scripps Health has been accredited by the American College of Surgeons CoC as an integrated network cancer program. The designation shows that Scripps meets the highest possible standards for consistently delivering exceptional patient care throughout the Scripps system.
Scripps Health is a nationally recognized leader in cancer care, providing comprehensive care at its five hospital campuses and various Scripps Clinic locations. Scripps Cancer Care physicians and staff work collaboratively toward cancer prevention, early detection, coordinated treatment and community support services. Scripps Cancer Care is actively involved in leading-edge clinical, translational and basic research.
Scripps offers advanced treatment technologies at the Scripps Proton Therapy Center, the Scripps Radiation Therapy Center and the San Diego Gamma Knife Center, and through its minimally invasive surgical program and CyberKnife stereotactic radiosurgery. Additional resources include specialized breast care centers and infusion clinics, nurse navigators, rehabilitation services, support groups and the Scripps Center for Integrative Medicine.
More information is available at http://www.scripps.org/cancer.