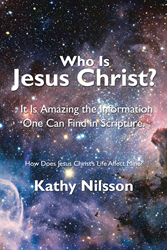 "In the beginning God created the heaven and the earth." Genesis 1:1
Langley, British Columbia, Canada (PRWEB) March 03, 2016
A new book titled "Who Is Jesus Christ?", published by AuthorHouse Publishing, a Penguin Random House Company, has been released containing little-known scriptural information about Jesus Christ. It tells of His pre-mortal, mortal, and resurrected life. It also explains who we are. The book is written and compiled by first-time author and scripturian, Kathy Nilsson
Nilsson wrote, "Scriptural knowledge of my Heavenly Father and my saviour, Jesus Christ, is the most precious possession I have. It gives me great pleasure to share it with you."
The book answers many questions about God, which include: Is the Godhead a spirit or three separate personages? What did Christ do before He was born on Earth? What is God's power? How does Christ's life affect ours? What is the priesthood? What has Christ done and is doing now that He has been resurrected?
The book, through scripture, uncovers interesting facts many do not know about Jesus Christ and about ourselves.
It also tells of three times in Earth's history when Christ organized His Church which are found in scripture. It explains what He will do when He comes to earth again.
This book answers the "who, what, where, how, and why" questions about earth life. It also touches on Christ's teachings.
The book can be purchased as an e-book, soft cover, or hard cover at (http://www.whoisjesuschrist.co). It can also be found at Barnes and Noble, Amazon, Abebooks, Book depository, and Blackwells Uk.
Order it from the website or ask for it at your nearest bookstore.
Author's information:
Kathy Nilsson
21231 83 Avenue
Langley, B. C. Canada
V2Y 0C2
604-513-4443
kathynilsson(at)gmail(dot)com
http://www.whoisjesuschrist.co
# # #